Euro zone private business growth recovered in June and rounded off the second quarter growing at a better than expected pace, bolstered by services firms.
But euro zone manufacturing growth was the weakest in 18 months on trade worries, a survey showed. 
News of faster expansion alongside rising price pressures will be welcomed by the European Central Bank after it signaled last week that its bond buying programme will end this year and rates would rise in 2019. 
IHS Markit's Euro Zone Composite Flash Purchasing Managers' Index, seen as a good guide to economic health, climbed in June to 54.8 from 54.1 in the previous month and above 53.9 predicted in a Reuters poll. 
Anything above 50 indicates growth. 
The composite output price index climbed to a four-month high of 53.8 from 53.2. That followed news last week that official euro zone inflation rose to 1.9% in May, very close to the ECB's 2% target ceiling. 
"An improved service sector performance helped offset an increasing drag from the manufacturing sector in June, lifting euro zone growth off the 18-month low seen in May," said Chris Williamson, chief business economist at IHS Markit. 
"Price pressures are also on the rise again, running close to seven-year highs. Increased oil and raw material prices are driving up costs, but wages are also lifting higher, in part reflecting tighter labour markets in some parts of the region," he said. 
The latest PMIs point to 0.5% economic growth in the second quarter, he said. 
That is below the 0.6% predicted in a Reuters poll taken last month, but above 0.4% clocked in the first three months of the year. 
The survey covering the bloc's dominant service industry rose to 55 from 53.8 in May, the highest since February, and above all forecasts in a Reuters poll, which predicted a dip to 53.7. 
Optimism also increased among services firms and they increased hiring at the fastest pace in over a decade. The employment index climbed to 55.2 from 53.9, the highest since late 2007.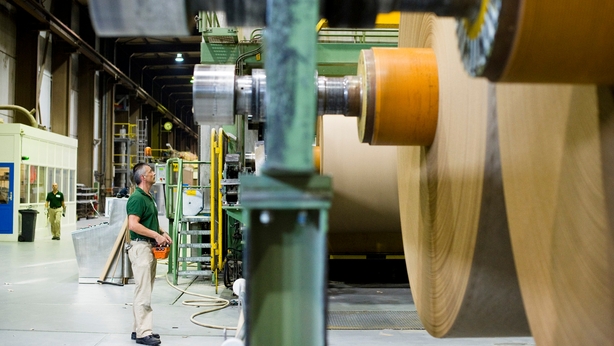 But manufacturing growth eased, in part on increasing fears of an outright trade war, with the flash June factory PMI down to 55, its weakest in 18 months, from 55.5 in May. 
US President Donald Trump's latest threats on tariffs have exacerbated already elevated tensions over trade, including with the European Union. 
The PMI index measuring output at factories, which feeds into the composite PMI, fell to a 19-month low of 54.3 from 54.8. Another sub-index measuring new factory orders fell to a 22-month low of 53.3 from 54.2 in May.
"The manufacturing sector still looks be in a state of underlying slowdown compared to earlier in the year. Companies are reporting worries and are increasingly worried about trade, trade wars and tariff escalation," Williamson said.