The Bank of England kept rates on hold today but its chief economist unexpectedly joined the minority of policymakers calling for a rate rise now.
The move is likely to bolster market expectations of an imminent hike.
The Bank of England also set out new guidance on when it might start to sell down its £435 billion of British government bonds.
It said this could come once rates have reached around 1.5%, sooner than previous guidance of about 2%.
The bank's Monetary Policy Committee voted 6-3 to keep rates at 0.5%, where they have been for most of the past decade, in contrast to economists' expectations in a Reuters poll for a continued 7-2 split.
Chief economist Andy Haldane joined long-term dissenters Michael Saunders and Ian McCafferty in calling for rates to rise to 0.75%, due to concerns that recent pay deals and labour demand could push wages up faster than expected.
This opens the door for a rate rise at the Bank of England's next meeting in August, something expected by most economists in a Reuters poll but which recent market pricing viewed as a less than 50% probability.
The MPC as a whole said their previous view that first-quarter weakness was temporary and linked to unusually poor weather appeared "broadly on track".
UK household spending and sentiment bounced back strongly, and a sharp fall in factory output in April could reflect firms having built up excess stocks during the period of bad weather in the first quarter of the year, the bank said.
At the end of last year Britain was the slowest-growing economy among the G7 group of rich nations, as businesses held back from investing ahead of Brexit and high inflation triggered by the 2016 referendum eroded households' disposable income.
UK inflation is drifting down from a five-year high of 3.1% hit in November, and growth in the first three months of the year was the slowest since 2012, after snow storms worsened existing weaknesses in the world's fifth-largest economy.
But with unemployment at its lowest since 1975, the Bank of England says the economy is running near full capacity, and that the longer-term direction for interest rates over the next two to three years is likely to be up.
Economists had expected the bank to raise rates in May, until a string of weak data and discouraging words from its Governor Mark Carney in April quashed those expectations.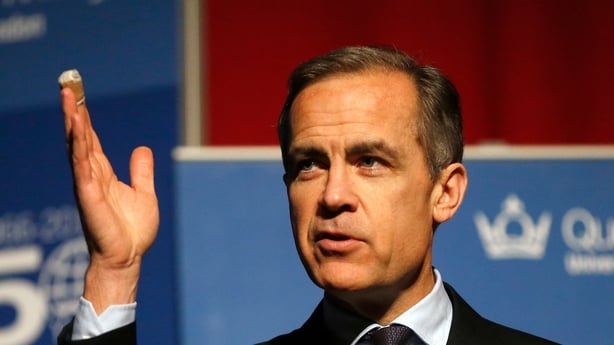 Last month the Bank of England said it wanted to see signs of stronger growth before it prepared to raise rates, in sharp contrast to the US, where the Federal Reserve has raised rates twice this year and plans to do so twice more.
Policymakers may have been concerned by a survey this week which showed most of the public no longer expected rates to rise at all this year.
Last month, a separate survey by the Bank of England showed a record proportion of the public did not know what would happen to rates over the next 12 months, during which Britain will leave the European Union.
Mark Carney will also have ample chance to elaborate on the outlook for the economy and its readiness for Brexit later tonight when he gives a major speech to the London's financial services industry.