The Central Statistics Office has said the country's population is projected to reach 6.69 million by 2051, if the country sees high inward migration and high fertility rates.
The CSO said that even with low inward migration and declining fertility, the population is still expected to reach 5.58 million by 2051.
The latest Census figures showed that the population stood at 4.74 million in April 2016.
Today's CSO figures predict the number of primary school-aged children is set to rise from its 2016 level of 548,100 to between 555,500 and 562,000 by 2021.
But after that, the number of primary school pupils is expected to fall to between 510,900 and 457,600 by 2031.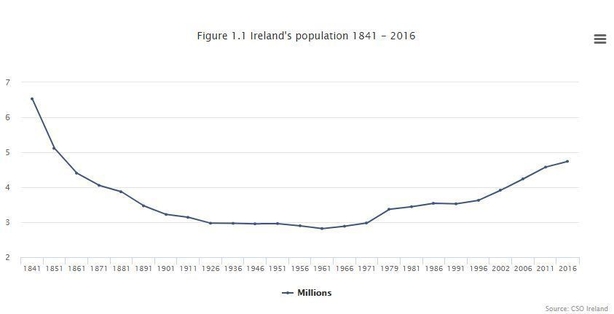 The CSO also said that the secondary school-aged population is projected to increase by between 67,300 and 75,700 persons by 2026.
According to the CSO, there will be between 1.5 and 1.6 million people aged 65 years and over by 2051, compared with 629,800 in 2016.
While around 13.3% of the population was aged 65 years and older in 2016, this will rise to between 23.9% and 27.4% in 2051.
It also said the number of people aged 80 years and over was projected to rise from 147,800 in 2016 to between 535,900 549,000 in 2051, an increase of between 262.6% and 271.4%.