The National Asset Management Agency today forecast it would post a lifetime surplus of £3.5 billion, up from an earlier estimate of €3 billion.
In its annual report published today, NAMA reported an after-tax profit of €481m for 2017 - its seventh consecutive year of profitability.
NAMA used €32 billion of senior and junior debt to rid the Irish banks of €74 billion worth of risky property loans.
Last year it redeemed the final tranche of government-guaranteed senior debt three years ahead of schedule.
The agency has been given additional roles by the Government, including building 20,000 homes on land it controls and building a new business district in Dublin's docklands.
NAMA raises forecast surplus up to €3.5 billionhttps://t.co/cvVGYwQDyP pic.twitter.com/foykiMjjlW

— RTÉ Business (@RTEbusiness) June 13, 2018
NAMA was established in 2009 during a crash that cut property values in half, but it has since benefitted from a surge in demand for Irish property.
Launching its annual report, NAMA chief executive Brendan McDonagh said that 2017 was a landmark year for the agency.
"We achieved our primary objective of eliminating our €30.2 billion senior debt three years ahead of schedule and we made a strong profit for the seventh year in a row," he said.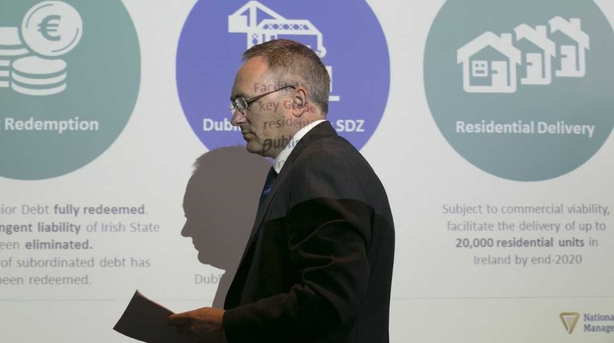 "We are now on track to deliver a lifetime surplus of €3.5 billion, assuming conditions remain favourable. This would be an outstanding achievement and a major economic and social contribution to the State by NAMA," he added.
NAMA Chairman Frank Daly said agency's "excellent financial performance" was complemented by very strong progress in its supplementary mandates of delivering new homes on a commercial basis and bringing much-needed commercial and residential development to the Dublin Docklands.
"We look forward to contributing further to alleviating Ireland's residential supply shortfall and are well placed now to do this," Mr Daly said.

He said assets, such as the former Irish Glass Bottle site and properties close to the proposed Metro line, still remain in the NAMA portfolio which offer compelling opportunities to provide housing.
"These must be managed in a structured manner over the medium term to ensure that the best financial and social return is achieved for taxpayers. It would be a mistake to dispose of these assets in the short term before the necessary Local Area Plans and infrastructure are in place," the NAMA chairman said.
"NAMA still has a lot of work to do but we remain resolute in our commitment to maximising our contribution to the State," he added.
Today's report shows that between the start of 2014 and the end of May, NAMA had funded the construction of 7,300 new homes.
Another 3,800 units are under construction or have had funding approved, while planning permission has been obtained for another 7,500 new homes.
NAMA also said that planning applications have been lodged or will be lodged over the next year for an additional 8,500 new homes.
The agency's stock of unfinished housing estates has also been reduced from 335 in 2010 to six as at the end of March this year.

The NAMA report reveals that 100% of its original interests in the Dublin Docklands Special Development Zone were under construction, had received planning permission or had been sold with the benefit of planning permission.
Construction is underway in 75% of Dublin Docklands sites in which NAMA retains an interest and planning permission is in place for the remaining 25%.