The number of people in work in the UK has remained at record levels, while earnings have grown slightly faster than inflation, new figures show today. 
UK employment increased by 146,000 in the quarter to April to 32.39 million, the highest figure since records began in 1971, giving a record rate of 75.6%.
Unemployment fell by 38,000 to 1.42 million, giving a jobless rate of 4.2%, the lowest since 1975, according to the Office for National Statistics (ONS). 
Average earnings increased by 2.5% in the year to April, down by 0.1% on the previous month, but 0.3% up on a year ago. 
The latest inflation figure stands at 2.4%.
"Employment has continued to rise, while the unemployment rate remained at its lowest for over 40 years. Wages, both including and excluding bonuses, are continuing to increase, and slightly faster than inflation," the ONS said. 
The number of people classed as economically inactive, including students, those on long-term sick leave, taken early retirement or who have given up looking for work, fell by 72,000 to 8.6 million in the latest quarter, giving a rate of 21%, a record low.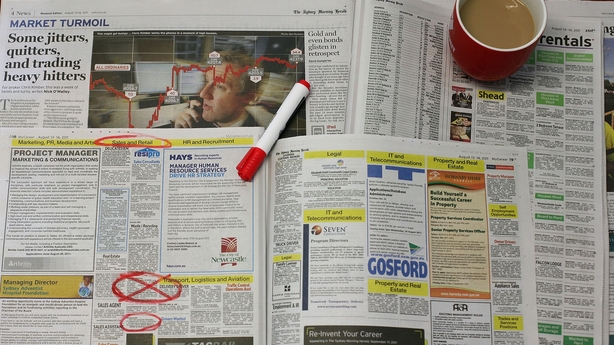 The UK claimant count, which includes people on Jobseeker's Allowance and the unemployment element of Universal Credit, fell by 7,700 last month to 886,000, around 90,000 more than a year ago.
Job vacancies increased by 2,000 to 818,000.
The number of self-employed workers increased by 34,000 to 4.8 million, although the figure is only 9,000 higher than a year ago.
Other figures showed that 16.5% of total UK employment was in the public sector, the lowest proportion since comparable records began in 1999, with 83.5% of people working in private firms.
There were 5.36 million people employed in the public sector in March, 10,000 more than in December last year, mainly because of increases in public administration and the Civil Service.
Work and Pensions Secretary Esther McVey said: "The employment rate has never been higher - with over 3.2 million people moving into work since 2010". 
It's a Great British success story, with businesses from Exeter to Edinburgh creating jobs, helping, on average, 1,000 people find a job each and every day since 2010," the Minister added.