Italian fashion house Gucci has said it aims to reach €10 billion in annual sales and replace LVMH's Louis Vuitton as the world's biggest luxury label.
The Gucci brand is reaping the benefits of a radical makeover under designer Alessandro Michele, with a flamboyant style that has won over fashion fans and helped sales surge.
Gucci, part of the Kering conglomerate that includes other labels like Saint Laurent, expects eventually to overtake all of its peers including mega-brand Vuitton, owned by Kering's French rival LVMH.
"We're in the same league ... The question is not if, but when," Gucci chief executive Marco Bizzarri said at a company strategy update.
Last year Gucci, with €6.2 billion in sales, came in behind Vuitton - estimated by analysts to bring in over €8 billion - as the luxury industry's number two, in close contention with a few others like Hermes.
It did not set a precise timeline for hitting €10 billion in revenue, but said it expected sales to grow at twice the market rate in the coming years as it enjoys a renaissance.
The luxury industry, fuelled by Chinese demand, is expected to pick up pace in 2018, with global revenues forecast to expand by 6-8% at constant currencies, according to a report by consultancy Bain this week.
Kering shares however, up more than 35% so far this year, closed down 4.15% following the strategy update, with other luxury stocks like LVMH or Hermes also falling.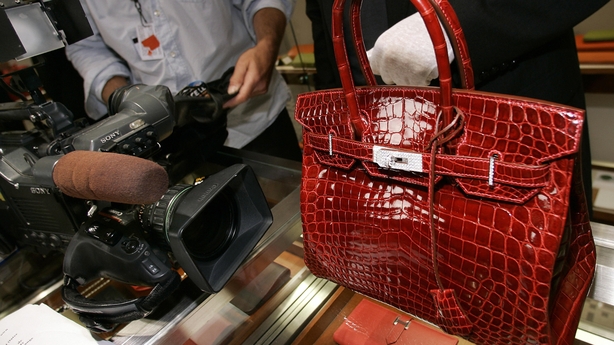 Analysts at HSBC said Gucci's punchy sales targets were achievable.
Others said that kind of revenue growth was already priced into the stock and some had concerns about the broader economic backdrop that drives upturns and downturns in the sector.
In a notoriously fickle industry, where tastes can change rapidly and ever more so with the influence of social media, brands are battling it out to capture buyers' attention with eye-catching designs or events like spectacular catwalk shows.
Gucci's Bizzarri and Michele, who both came on board in 2015, gave the brand a top-to-bottom makeover, from new product ranges to stores redesigned to make them more welcoming, in vivid hues and draped in velvet.
So far, the brand has defied any expectations of a slowdown or of a fading buzz around Michele's creations.
The company's revenue expanded by 49% from a year earlier at constant currencies in the first three months of the year.
Bizzarri said that thanks to further store facelifts, Gucci aims to further boost sales densities - a measure of profitability in stores.
These could eventually reach €45,000 per square metre on an annual basis, from just over €30,000 in 2017.
Gucci also targets an operating margin of more than 40%, compared to around 34% in 2017.
The brand plans to triple sales made on its e-commerce sites to around 10% of revenue - though it did not give a timeline - as it rolls out new shoppable platforms from New Zealand to Mexico.