The European Central Bank will debate next week whether to end bond purchases later this year, the bank's chief economist has said.
Peter Praet's hawkish message is being seen as preparing investors for another cut in stimulus.
Having revived growth with an unprecedented €2.55 trillion bond-buying scheme, ECB policymakers must decide when to end the purchases as the threat of deflation is long gone and the bloc is on its best growth run in a decade.
While policymakers are in broad agreement that the purchases should end this year, ECB President Mario Draghi has avoided any formal discussion about winding down the programme, looking for more evidence that inflation is on a sustained rebound.
But comments from Peter Praet, a close Draghi ally, suggest that the ECB is pleased with the rise in inflation, raising the risk that a decision may come sooner rather than later.
"Next week, the Governing Council will have to assess whether progress so far has been sufficient to warrant a gradual unwinding of our net purchases," he said in his last remarks before the ECB's next policy meeting, noting that it will be a "judgement" call.
Some analysts took the comment to suggest a decision is coming at the June 14 meeting but others saw it as the starting gun in a debate that will likely culminate in a decision in July.
Major policy changes have been taken in two steps in recent years with Draghi announcing preparations for a change in one meeting, then following through six weeks later.
The bank's meeting next week is in Riga, Latvia, making a major decision more difficult.
External meetings away from the ECB's Frankfurt headquarters, held just once a year, involve protocol functions with local officials, leaving less time for substantial work.
But Praet's comments were a clear signal that when a decision is made, it is likely to be about gradually winding down the programme as progress has been made in the ECB's three inflation criteria.
"Signals showing the convergence of inflation towards our aim have been improving, and both the underlying strength in the euro area economy and the fact that such strength is increasingly affecting wage formation supports our confidence that inflation will reach a level of below, but close to, 2% over the medium term," Praet said in Berlin.
"Waning market expectations of sizeable further expansions of our programme have been accompanied by inflation expectations that are increasingly consistent with our aim," Praet said.
Euro zone inflation surged to 1.9% last month to hit the ECB's target but most of the rise was due to higher energy prices.
While the ECB tends to look past oil price shocks, it targets headline inflation suggesting that rising prices, even if fuelled by those higher energy costs, support the case for curbing stimulus.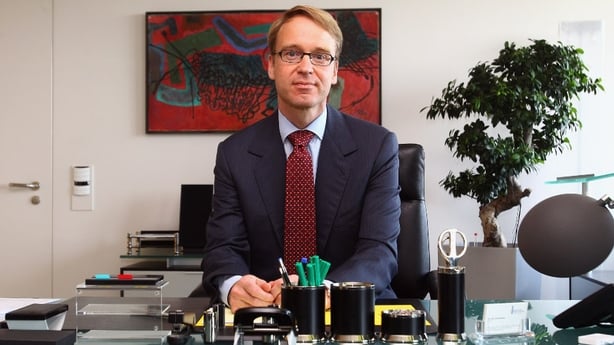 Several Governing Council members including two board members have recently argued for an end to the bond buys this year and Bundesbank President Jens Weidmann, among the most conservative rate setters, renewed his call yesterday to end the purchases.
The buys, now reduced to €30 billion a month, are due to run until the end of September but policymakers have long argued that they should be wound down gradually, over the course of several months.