At the height of his career, David Drumm was viewed as Ireland's most successful banker.
When he was chief executive of Anglo Irish Bank, the lender's profits rose by 96% from 2005 to 2007. It was the zenith of the boom and the property market was expanding rapidly.
Anglo's performance made the bank the envy of its rivals.
In 2007 David Drumm was feted as a financial whizz at the age of just 41. 
But one year later Anglo Irish Bank was beginning to unravel as the property market started to nosedive, the global financial crisis was in full swing and Irish banks were fighting for survival. 
At its annual results in December 2008, David Drumm said as an "ultra prudent move" the bank would put aside €500m as a rainy day fund. 
When the bank went bust the final cost would be 60 times larger almost €30 billion. That bill was paid by the Irish taxpayer. 
David Drumm abruptly quit in January 2009 as Anglo Irish Bank was nationalised. 
Significant concerns then began to emerge about how the bank was run. 
David Drumm became the focus of public opprobrium as austerity was introduced in the wake of the economic collapse. 
In 2010 he moved to the US to start a consultancy advising business people who had been dealing with banks. 
But he had financial troubles of his own and was pursued for €10m he had borrowed from Anglo Irish Bank. 
He attempted to go bankrupt so he could be discharged from the debts.
After four years of legal wrangling he was blocked from doing so because he had transferred €1m to his wife. 
A US judge said "it would be hard to imagine a more dishonest debtor".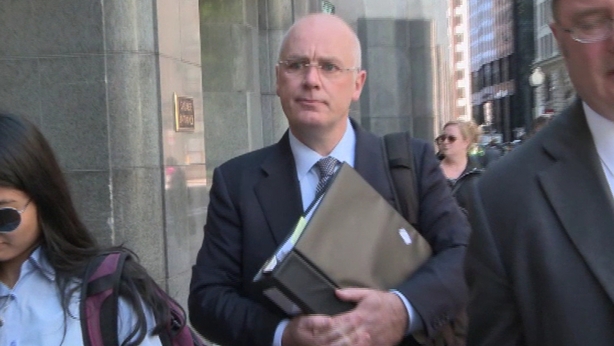 Drumm had blamed his lawyers for failing to disclose the transfer. 
At home he was under investigation for his actions as CEO of Anglo Irish Bank. 
He was charged in his absence in Ireland on 33 counts, including conspiracy to defraud and false accounting. 
In October 2015 he was arrested by US Marshals because Irish authorities wanted to extradite him. 
After being denied bail and spending five months behind bars in Boston, he abandoned his fight against extradition and agreed to return to Ireland. 
He appeared in court in Ireland and was granted bail.
The case against David Drumm began last February.
He had pleaded not guilty to conspiring with former bank officials to defraud depositors and investors by dishonestly creating the impression that deposits in 2008 were €7.2 billion larger than they were. 
He also pleaded not guilty to false accounting on 8 December 2008 by furnishing information to the market that Anglo Irish Bank's deposits were larger than they were. 
The conclusion of the trial today comes ten years after Anglo Irish Bank began to slide into the financial abyss.
But the cost of bailing out the bank will not be fully repaid for another 30 years.