New figures from the Central Statistics Office shows that unemployment fell again in May after falling below the 6% level for the first time in ten years in April.
The seasonally adjusted unemployment rate for May fell to 5.8% from 5.9% in April and was lower than the rate of 6.6% in May of last year.
Unemployment was last below 6% in May 2008 just as its economic crisis hit, doubling the rate of joblessness in less than a year and swelling it to a peak of 16% by 2012.
The rate has fallen steadily since and the Irish Fiscal Advisory Council said today that unemployment could fall as low as 4.5% next year as the fast-growing economy approaches full employment.
Today's figures show that the seasonally adjusted number of unemployed people stood at 139,000 in May, down from 140,800 in April.
The seasonally adjusted unemployment rate was 6.1% for males in May, down from 7.3% the same time last year. The seasonally adjusted unemployment rate for females was 5.5%, down from 5.8% last year.
Today's figures also show the seasonally adjusted youth unemployment rate for persons was 11.9% in May, down from 12% in April.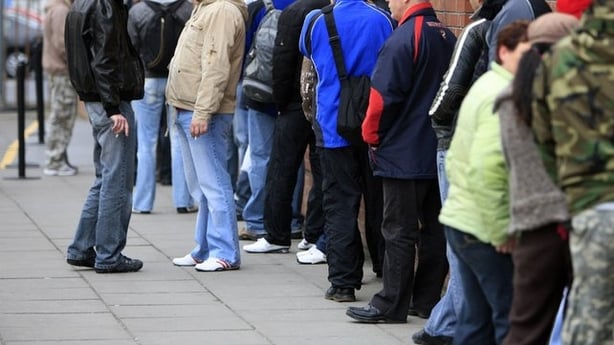 Commenting on today's figures, Davy analyst David McNamara said that despite the rapid fall in the unemployment rate towards an equilibrium, the recovery in the labour market is far from complete.
Mr McNamara said the key difference between today and a decade ago is the lower level of participation in the labour force which, at 62.3%, is still well below the pre-recession peak of 66.6% in Q4 2007.
He said that a number of factors are at play here - mainly the sluggish structural catch-up in female participation and an ageing population.
But he said he expects continued growth in the labour force, driven by inward migration and a belated recovery in participation.
"We expect the labour force to grow by 1.6% in 2018 and 2019, employment to rise by 2.7% and 2.5% respectively and the unemployment rate to fall to 4.7% by 2019," the analyst added.