Euro zone business activity slowed again in May, a survey showed today, and forward-looking indicators suggest a further loss of momentum in coming months. 
The pace of growth has slowed from the turn of the year and - possibly of concern to policymakers at the European Central Bank - inflation pressure also eased last month. 
Euro zone inflation was 1.9% last month, official data showed on Thursday, pretty much bang on the ECB's target and giving the central bank room to move away from its ultra-easy monetary policy. 
The ECB will finish its stimulus programme by the end of this year, according to a Reuters poll of economists last month. 
IHS Markit's Final Composite Purchasing Managers' Index, seen as a good overall indicator of euro zone growth, fell to an 18-month low of 54.1 in May from April 's 55.1.
But it still remains above the 50 mark separating growth from contraction. 
"With the economic indicators turning down at the same time as political uncertainty has spiked higher, the euro zone's outlook has darkened dramatically compared to the sunny forecast seen at the start of the year," said Chris Williamson, chief business economist at IHS Markit.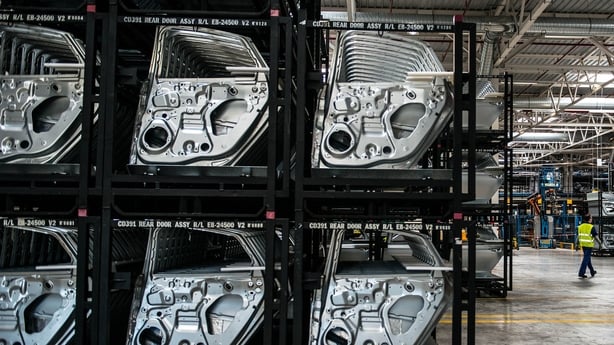 New order growth weakened, backlogs of work were amassed at a shallower rate and hiring slowed. 
This meant firms were at their least optimistic since late 2016, causing the future output index to sink to 63.7 from 65.7. 
Williamson said the data pointed to a quarterly growth rate of 0.4 to 0.5%, weaker than the 0.6% predicted in a Reuters poll last month. 
"On the upside, companies reported business to have been disrupted by an unusually high number of holidays in May, especially in France and Germany, suggesting growth could rebound in June," Williamson said. 
Earlier surveys showed growth in Germany, Europe's largest economy, slumped to a 20-month low in June while the expansion in French services also plummeted. 
A survey covering the bloc's dominant service industry also declined. The services PMI fell to 53.8 from 54.7, its lowest since the start of 2017. 
And indicating little chance of a bounceback this month, new business growth weakened. The sub-index declined to 53.5, a 17-month low, from 54.6.