Deutsche Bank's chief executive has today sought to reassure staff that the German lender was financially sound.
This comes after a ratings downgrade and a share price slide in the wake of a report saying the US regulator viewed the lender as "troubled" last year.
The report in yesterday's Wall Street Journal was followed today by a Standard & Poor's downgrade of Deutsche's credit rating to BBB+ from A-.
The ratings agency questioned whether the CEO could deliver a strategy to return the bank to profit.
"At group level, our financial strength is beyond doubt," new CEO Christian Sewing said in a letter to staff.
But he candidly admitted that the newsflow around the bank was "not good".
In its report, S&P questioned Sewing's ability to deliver on a plan to scale back Deutsche's global investment bank and refocus on Europe and its home market to chart a return to profitability after three years of losses.
"We see significant execution risks in the delivery of the updated strategy amid a continued unhelpful market backdrop, and we think that, relative to peers, Deutsche Bank will remain a negative outlier for some time," S&P said.
Credit ratings are critical for any company but especially crucial for a bank such as Deutsche, whose perceived health is important in winning business. Deutsche is a big issuer of debt securities whose cost is highly reliant on credit ratings.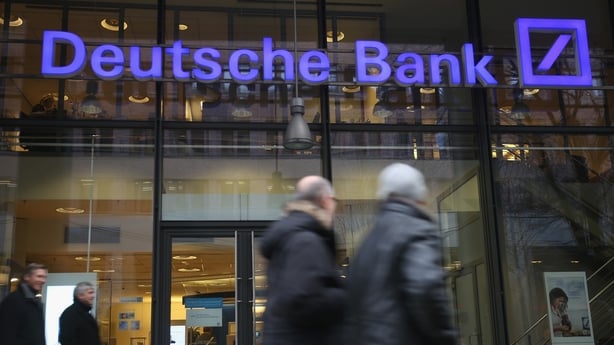 In his letter, Sewing also addressed US regulatory concerns following the Wall Street Journal report that said the Federal Reserve had designated Deutsche Bank's operations last year to be in a "troubled condition".
The report sent Deutsche's shares down by 7% yesterday to their lowest-ever closing level.
S&P in April placed Deutsche Bank on "credit watch" for a possible downgrade, saying a sudden change in chief executive could prolong the lender's restructuring.
In his letter to staff today, Sewing said Deutsche Bank's credit and market risk levels had rarely been so low, speculation it was exposed to political uncertainty in Italy was unfounded and funding plans for this year were well advanced.
The chief executive also said Deutsche Bank was well positioned to react to excessive moves in debt markets.
Sewing said a series of enforcement actions by the Federal Reserve were principally related to weaknesses in internal controls and infrastructure.
"As you know, we have made progress in remediating them over the past year," he wrote. "We're not yet where we want to be, but we are steadily getting there."
European banking regulators said that Deutsche had made "good progress" in its efforts to address regulatory concerns.
"The bank now has a tighter management team, good capital and liquidity, and supervisors are reassured by the plans they see," a source familiar with the thinking of the European Central Bank said.
S&P reaffirmed that Deutsche Bank's non-preferred senior unsecured debt rating of BBB-, sending Deutsche Bank shares 3% higher in pre-market trading after yesterday's slump.
"We appreciate S&P's statement that 'management is taking tough actions to cut the cost base and refocus the business in order to address the bank's currently weak profitability," the German lender said.
Up until today, S&P rated Deutsche Bank's long-term credit at A-, on negative credit watch. That was one or two notches below most major European competitors.
By comparison, S&P rates Switzerland's UBS at A+ with a stable outlook.
Sewing said this month he would reduce global staff by more than 7,000, including 25% of the global equities business.