Dixons Carphone today warned on profits and said it would have to close shops, wiping more than £500m off the value of the UK's biggest electricals chain in the latest blow to traditional retailers. 
Online shopping and cash-strapped consumers are taking a toll on firms like Dixons Carphone, forcing rapid cuts. 
The company sells a range of electrical goods from iPhones to hoovers at 1,100 Currys PC World and Carphone Warehouse stores. 
"Though there's plenty to fix, it's all fixable," Chief Executive Alex Baldock, who joined Dixons Carphone two months ago from online retailer Shop Direct, said after the results. 
Baldock said he will close 92 Carphone Warehouse mobile phone stores this year, and added that the group as a whole was suffering as a result of previous under-investment and rising staff costs. 
Analysts said more store closures could follow. 
Dixons Carphone joins Marks & Spencer, New Look, Mothercare, Carpetright and House of Fraser in shutting stores in the UK.
But it said today that no jobs would be lost as staff would be redeployed to its other shops. 
Shares in the group were down 20% today, despite the new CEO pledging to improve margins and better integrate Dixons with Carphone Warehouse, which merged in 2014, and saying that he will flesh out his plans in December.
The retailer said it expected the UK electricals market to shrink this year, with people spending less on computers and more on less-profitable white goods such as washing machines. 
Customers are also upgrading mobile phones less often and turning away from long-term contracts, which Hargreaves Lansdown analyst George Salmon said was pressuring margins, while delivery and installation of white goods was proving a burden.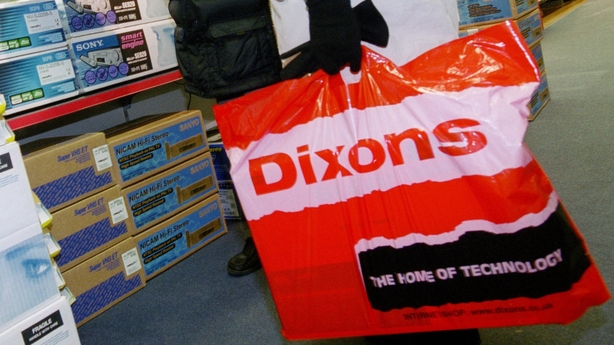 Dixons Carphone said expects headline pretax profit for 2018/19 to be around £300m, which is 21% below the £382m it is forecasting for the year to April 28, 2018, and short of analysts' forecast of £387m for 2018/19, according to Thomson Reuters data. 
The UK market accounts for about 60% of Dixons Carphone revenues. The company was more optimistic about its international markets, where it trades in the Nordics, Spain and Greece, saying it expected continued growth in profits. 
The fast-changing landscape means that European consumer electronics is seen as ripe for consolidation, with Germany's Ceconomy saying this month it will keep pushing the process to cope with the advance of rivals like Amazon. 
Ceconomy's MediaMarktSaturn has signed a deal with French electronics retailer Fnac Darty to create a European alliance for purchasing and has suggested Dixons Carphone might also be interested in joining. 
Irish stores not impacted by planned closures
The planned store closures are in relation to the UK market only and do not impact the company's Irish business.
"The business here in Ireland is performing in line with expectations and investment is ongoing in the store network," Mark Delaney, Managing Director of Dixons Carphone Ireland, said in a statement today.
He said that Dixons Carphone Ireland is continuing to invest in its bricks and mortar stores across the country by creating three in one "superstores" which bring all brands - Currys PC World and Carphone Warehouse - together under one roof. 
The latest of these stores opened recently in Navan and the next opening will take place in Waterford later this summer.
Dixons Carphone Ireland had a record financial year in the 12 months to the end of April with increased market share in all categories including TVs, computing, mobile phones and white goods.  
Sales between Black Friday 2017 and New Year 2018 were the highest in the company's history, rising by 12% year-on-year.