Oil prices fell more than 2% towards $77 a barrel today as Saudi Arabia and Russia said they were ready to ease supply curbs that have pushed crude prices to their highest since 2014. 
Russian Energy Minister Alexander Novak and Saudi counterpart Khalid al-Falih met in St Petersburg to review the terms of the global oil supply pact that has been in place for 17 months. 
The ministers, along with their counterpart from the United Arab Emirates, discussed an output increase of about 1 million barrels per day (bpd), sources told Reuters. 
Brent crude futures were down $1.51 at $77.28 a barrel, having hit their highest since late 2014 at $80.50 this month. 
US West Texas Intermediate (WTI) crude futures were at $69.34 a barrel, down $1.37. 
Speaking in St Petersburg, Falih said the easing of restrictions on pumping levels would be gradual to avoid a shock to the market. 
He also said the main concern over the recent price rally to more than $80 a barrel should be the impact on onsumer nations such as India and China. 
The Organisation of the Petroleum Exporting Countries (OPEC) and a group of non-OPEC producers led by Russia started withholding output in 2017 to tighten the market and prop up prices. 
Global crude supplies have tightened sharply over the past year because of the OPEC-led cuts, which were boosted by a dramatic drop in Venezuelan production. 
The prospects of renewed sanctions on Iran after US President Donald Trump pulled out of an international nuclear deal with Tehran have also boosted prices in recent weeks. 
Novak said current cuts were 2.7 million bpd because of the drop in Venezuelan production but he declined to say whether OPEC and Russia would decide to boost output by 1 million bpd at their meeting on June 22.
Falih said that "all options are on the table" regarding targets for output cuts.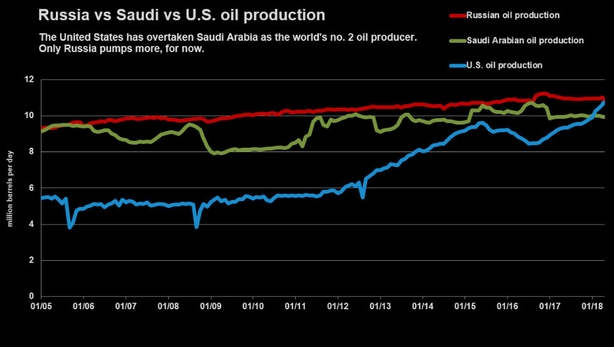 While Russia and OPEC benefit from higher oil prices, up almost 20% since the end of last year, their voluntary output cuts have opened the door to other producers to ramp up production and gain market share. 
US crude oil production has risen by more than a quarter in the past two years, to 10.73 million bpd. Only Russia produces more, at about 11 million bpd.