Deutsche Bank is cutting more than 7,000 jobs to reduce costs and restore profitability while maintaining its international reach as its new chief executive seeks to reassure investors and clients.
Germany's biggest bank said global headcount would fall to well below 90,000 from 97,000, with a 25% cut in equities sales and trading jobs.
These jobs are mainly in New York and London, where the bank has been losing ground to US rivals.
Deutsche Bank did not give a specific number, but a person with knowledge of the matter told Reuters ahead of the lender's annual general meeting today that it was aiming to axe 10,000 positions.
Christian Sewing, who became CEO in an abrupt management reshuffle last month, said the bank was committed to its international presence, fleshing out his plan to scale back its global investment bank and refocus on Europe and its home market after three consecutive years of losses.
Last month the bank flagged cuts to US bond trading, equities, and its business serving hedge funds.
"We remain committed to our Corporate & Investment Bank and our international presence - we are unwavering in that," Sewing said, while acknowledging a "challenging" revenue environment.
Deutsche Bank has already dismissed 600 investment bankers over the past seven weeks and will cut spending by €1 billion by the end of 2019 in its investment bank.
"This reduction is already fully underway, and so far, due to the considered way we've handled this, we have not seen any meaningful revenue attrition," Sewing said.
Deutsche Bank has long been a default source of lending and advice for German companies seeking to expand abroad or raise money through the bond or equity markets, a role which has had the tacit backing of successive governments in Berlin.
Sewing said that Deutsche Bank's position as a competitor to the Wall Street banking heavyweights such as Goldman Sachs, JP Morgan, Morgan Stanley and Bank of America, whose clout has grown in recent years, remained an important focus.
"We are Europe's alternative in the international financing and capital markets business. However, we must concentrate on what we truly do well," he said.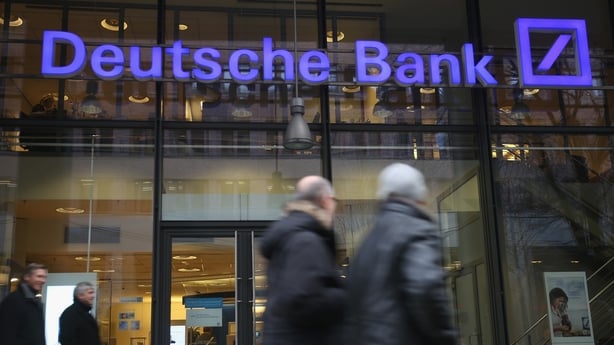 Deutsche Bank has been losing ground to rivals in investment banking in all regions, Thomson Reuters data shows.
Its ranking for investment banking fees fell to 10th from 8th in the Americas between 2010 and 2017,to 15th from 6th in Asia-Pacific and to 3rd from 2nd in Europe.
Data shows that in global equities, Deutsche has also lost market share in the cash, derivatives and prime services businesses over the same period. Overall in global equities it ranked between 7th and 9th in 2017 compared to a ranking of between 4th and 7th in 2010.
The reductions will reduce the investment bank's leverage exposure by €100 billion, or 10%, but analysts said the moves were disappointing and its shares, down more than 31% this year, were slightly weaker today.
Shareholders had said they would call on Deutsche Bank to speed up the recovery process at the AGM, which comes after months of internal turmoil.
Chairman Paul Achleitner last month abruptly replaced CEO John Cryan with Sewing amid investor complaints the bank was falling behind in executing a turnaround plan.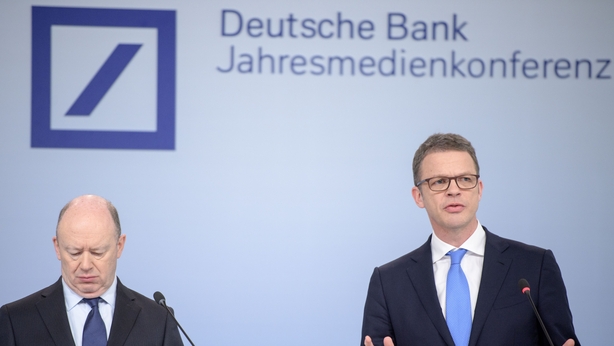 Achleitner defended his decision at the AGM, adding that US banker John Thain had agreed to head a new strategy committee on the bank's supervisory board.
The bank is also under pressure from credit ratings agencies, with Standard & Poor's expected to say by the end of the month whether it will cut its rating after putting it on "credit watch" in April.
Deutsche Bank has been in Ireland since 1991 and employs over 650 people in Dublin's Eastpoint Business Park.