Dublin-based international convenience food company Greencore has reported a group operating loss of £4.4m for the six months to the end of March after what the company called a challenging time.
The half year loss compared to operating profits of £24.5m the same time last year.
Group revenue, however, rose by 22.6% to £1.24 billion and the company's shares rose by almost 5.1% in London trade today.
Greencore said its profit growth was impacted by challenges in its US business which it has now restructured.
The company's share price took a hit after it adjusted its profit outlook for the full year in March.
Greencore said it was anticipating good organic growth in the seasonally more significant half of the financial year and it reiterated its guidance for its for full-year earnings per share.
It said that its UK profit conversion will be driven by a strong year on year performance in its Food to Go division, while US profitability will be supported by a strong performance in the former Peacock Foods business.
"While we delivered strong revenue growth in both the UK and US, profit growth was impacted by the challenges experienced in the original part of Greencore's US division," the company's chief executive Patrick Coveney said.
"As a result of the significant strategic, network and organisational measures that we have taken in order to address these challenges, we believe that our US business is now much better positioned to deliver an improved performance in the second half of the year and beyond," Mr Coveney said.
"We anticipate strong organic growth for the remainder of FY18," he added.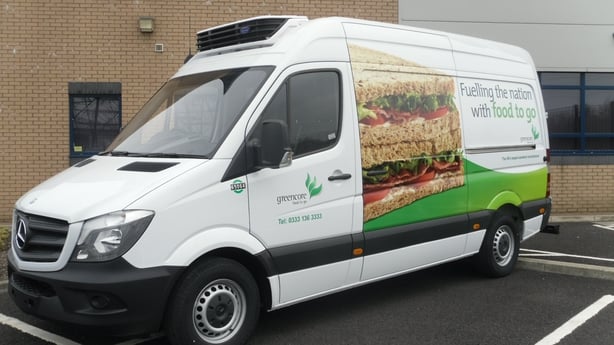 Greencore said that revenues in its Convenience Foods UK and Ireland division rose by 7.2% to £734.9m while operating profits were up 0.6% to £47.1m in what continued to be a challenging trading environment.
The group's market share of sandwiches in the UK grocery market remains strong at 60%, but it has exited the UK cakes and desserts sector.
Revenues in Greencore's Convenience Foods US division jumped by 55% to £503.6m mainly reflecting the purchase of Peacock Foods in December 2016.
Adjusted operating profits for the six month period raced 48.2% higher to £12.6m - again boosted by the Peacock deal.
The company decided to end production at its Rhode Island facility to address the operating losses that had continued and increased during the six month period.