AIB has agreed a deal to sell a €1.1 billion portfolio of non-performing loans to a consortium led by distressed debt fund Cerberus. 
The consortium includes Everyday Finance, an Irish debt management business acquired by London-based Link Financial Group from Finance Ireland in 2016, which is regulated by the Central Bank. 
Some of the loans are in deep, long-term arrears with around 90% of them more than two years behind on their repayments, and around 70% more than five years in arrears. 
"The portfolio is underpinned by investment asset properties and excludes private dwelling houses and family farm homes," the bank said.
The portfolio has 800 customers with an average loan balance of €1.4m and AIB said it does not include loans that have been restructured and deemed to be performing by the bank. 
When completed, AIB said it will receive €800m from the deal which will be used for ongoing liquidity management.
In a statement today, AIB said it has reduced its non-performing exposure to €9.2 billion as at the end of March 2018 from £31 billion in 2013. This latest deal cuts the exposure by an additional €1.1 billion. 
"95% of the reduction has been achieved through case by case restructuring and working with customers to rightsize sustainable debt based on customer affordability," the lender said. 
It said it has implemented over 90,000 solutions including over 40,000 home solutions which involved significant debt write-off. 
"AIB continues to engage with customers in arrears to reach solutions which now includes an enhanced mortgage to rent option," it said.
It said that about 1,500 staff continue to work with customers who find themselves falling behind on their mortgage repayments, adding that it prefers to provide solutions on a case by case basis.
AIB said it will contact impacted borrowers to inform them that their loans are being transferred, and
to confirm existing legal and regulatory protections remain in place.
The bank was rescued by the Government during the financial crisis but its recovery since then has enabled the state to sell of some of its holding in an initial public offering last June.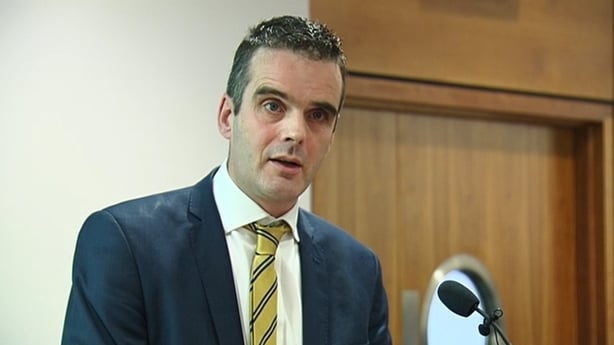 Commenting on today's loan sale, IFA President Joe Healy said the association has had significant and ongoing engagement with AIB in recent weeks on the issue of arrears.
Joe Healy said that AIB had given a commitment to the IFA that any family farm homes would be excluded from any loan sales.
But Mr Healy said he remained concerned that some investment loans secured against farmland may be included in the sell-off.
He said that AIB hold the association that most farm borrowers in financial difficulty have engaged and have had their loans restructured.