Consumer prices fell on an annual basis for the first time in nine months in April, as a pick-up in inflation remained elusive in Europe's fastest-growing economy.
New figures from the Central Statistics Office show that consumer prices were 0.4% lower in April of this year compared to the same time last year.
The decrease came on the back of lower air fares, cheaper cars and lower health and motor insurance premiums.
The CSO figures show that consumer prices - on a monthly basis - fell by 0.2% in April.
Inflation in Ireland has remained broadly flat over the last four years.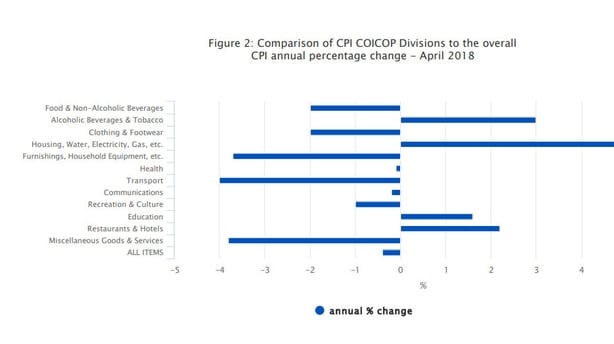 The CSO said transport costs fell by 4% in April on an annual basis due to a fall in air fares and a reduction in the price of cars, but these falls were partially offset by higher diesel and petrol prices.
Miscellaneous goods and services prices fell by 3.8% mainly due to lower motor and health insurance premiums, as well as lower prices for appliances and personal care products.
Prices of food and non-alcoholic beverages were also 2% lower on the back of cheaper meat, vegetables, honey and chocolate last month.
However, April saw an increase of 4.8% in the price of housing, water, electricity, gas and other fuels due to more expensive rents and higher electricity and home heating oil prices.
The price of alcoholic beverages and tobacco rose 3%, while prices in restaurants and hotels were 2.2% higher last month.