Food technology and ingredients company Kerry Group has announced a 3.7% in sales in the first three months of the year.
In an interim management statement issued ahead of its AGM today, Kerry said volumes at its taste and nutrition business rose by 4.3%.
Volumes at its consumer foods division - which includes brands like Dairygold and Galtee - grew by 1.6%.
As a result Kerry has maintained its full year earnings guidance of 6-10%.
Kerry Group's chief executive Edmond Scanlon said that the company's start to the year has been in line with its expectations.
Mr Scanlon said the acquisitions completed over the past year are performing well and integration is progressing to plan.
"We are encouraged by the start to the year and reaffirm our full year 2018 guidance of adjusted earnings per share growth of 6% to 10% in constant currency," the CEO added.
Today's statement said the volume growth across the company's Taste and Nutrition division came from its global, regional and local customers groupings.
The Americas region saw 2.9% volume growth with a good performance in North America, while Brazil performed well and Mexico delivered a "solid performance".
The Europe region reported 3.1% volume growth with its "Island Oasis" drink brand showed strong growth, especially in Southern Europe.
It also noted that the Dairy EUM performed well, as consumer demand for "luxury indulgence" led to new premium launches in the ice-cream sector.
Volume growth in the Consumer Foods division was led by good growth in food to go solutions and snacking.
It noted that while traditional spreads category continued to be challenged, Dairygold had a "solid" performance in Ireland.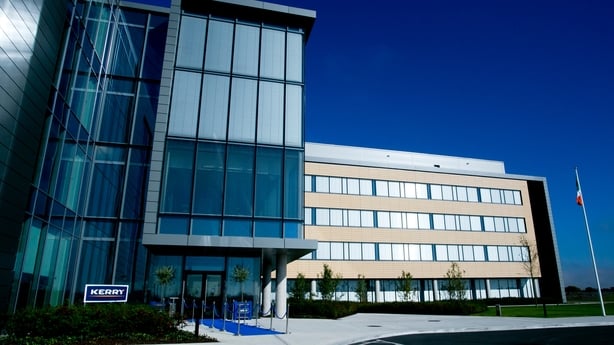 Kerry said that overall divisional volumes in the first three months of the year were impacted by extreme cold weather spells in March.
It added that the "Brexit mitigation" programme has made further progress in the quarter and is on track to deliver its objectives.
As previously announced, Kerry Chairman Michael Dowling will retire from the company's board after today's AGM and will be succeeded by Philip Toomey.
Mr Toomey joined the board in February 2012 and was appointed as Senior Independent Director to the Board. He was appointed Chairman of the Audit Committee in February 2013.