Euro zone economic growth slowed as expected at the start of 2018, although economists said temporary factors were partly behind the weakness and that the economy should continue to expand strongly this year. 
Gross domestic product across the euro zone expanded by 0.4% in the first quarter compared to the last quarter of 2017 and by 2.5% year on year, EU statistics agency Eurostat said today. 
Eurostat's preliminary flash estimate was in line with economists' forecasts, but well below the 0.7% quarterly rises seen in the previous three quarters. 
The growth rate pushed the euro zone behind the US, but still ahead of Britain, which registered its weakest growth since 2012. 
Economic sentiment data slipped in March but remained broadly unchanged in April, leading analysts to forecast that the euro zone economy will ease back to still-healthy growth levels of about 2% year-on-year in the coming quarters. 
But it was seen as unlikely to match the 2.5% expansion seen in 2017. 
"Temporary factors, including unseasonably cold weather, striking workers, short-term bottlenecks and even an outbreak of the flu, appear to have weighed on GDP growth in Q1," economists at Capital Economics said. 
"Given the high level of consumer confidence, we suspect that consumption growth will pick up in Q2 and help to push quarterly GDP growth back to around 0.5% or 0.6%," they added. 
Confidence took a dip in part over concerns about a trade war with the US, which could still be sparked if Washington imposes tariffs on steel and aluminium imports from the European Union. 
A decision on this is due by June 1.
In a separate statement, Eurostat said unemployment in the euro zone was stable in March at 8.5%.
Meanwhile, euro zone factory growth slowed further last month from record highs at the turn of the year, but expansion remained strong as customers largely shrugged off rising prices. 
Having outpaced its peers in 2017, growth in the bloc's economy has steadily weakened this year and a March Reuters poll said growth had peaked.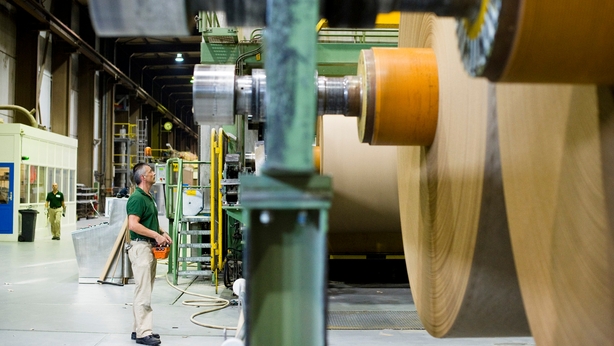 But the economy remains strong and price pressures showed some signs of increasing last month, so the European Central Bank is still likely to move away from its ultra-easy monetary policy this year. 
IHS Markit's April final manufacturing Purchasing Managers' Index for the bloc slipped for a fourth month, falling to a 13-month low of 56.2 from March's 56.6, above a preliminary reading of 56. 
Anything over 50 indicates growth. 
An index measuring output, which feeds into a composite PMI due on Friday and is considered as a good guide to economic health, rose to 56.2 from March's 55.9. 
"The manufacturing sector saw growth weaken further at the start of the second quarter, but let's not lose sight of the fact that the overall pace of expansion remains encouragingly solid," said Chris Williamson, chief business economist at IHS Markit. 
"Although growth has slowed markedly compared to the start of the year, December had seen the best performance in over 20 years of survey data collection, with factory activity clearly surging at an unsustainable rate," he said. 
Factory growth slowed in three of the bloc's four biggest economies - Germany, Italy and Spain - but France snapped a streak of three consecutive months of falling readings and picked up, earlier figures showed. 
The ECB wants inflation just below 2% but it held steady at 1.3% in April, official data are expected to show tomorrow. 
However, an output prices PMI suggested factories increased charges faster last month as it rose to 57.5 from 57.3. 
Since the turn of the year, the euro has risen against the dollar, peaking at a gain of almost 5% in February - making the bloc's exports more expensive. But those gains have been wiped out in the past fortnight. 
Euro zone economic growth, already moderating in part from the stronger currency, will take a further hit from an ongoing trade dispute between the US and China, according to a majority of economists polled by Reuters last month.