Paddy Power Betfair said profit growth could stall this year after earnings fell in the first quarter on higher taxes and a subdued performance in its main European online business.
Betting exchange Betfair's tie-up with Paddy Power, which runs betting shops as well as an online business, was hailed in 2016 as a merger that would allow the two brands to better compete through increased scale.
However their full integration was completed only this year and the combined group acknowledged that left the Paddy Power brand in particular suffering from a lack of product investment in the fiercely competitive British market.
The bookmaker's first quarter earnings fell 6% on a constant currency basis, putting its shares on course for their worst day in almost two years, down 5.8% at €77.50 by 10am.
This was despite the confirmation of plans to return £500m to investors over the next 12 to 18 months in a share buyback programme.
The shares traded at around €140 shortly after the deal was finalised in February 2016.
"While this Q1 performance is disappointing, we have made good progress on the key strategic priorities I outlined in March," Paddy Power Betfair's chief executive Peter Jackson, who took over in January, told an analyst call.
"It's clearly too soon for these initiatives to have an impact but we're seeing early signs of success," he said.
The bookmaker said that excluding one-off annualisation of taxes and start-up losses in the US core quarterly earnings would have been flat.
For the year as a whole, it forecast something between a slight decline and 5% increase.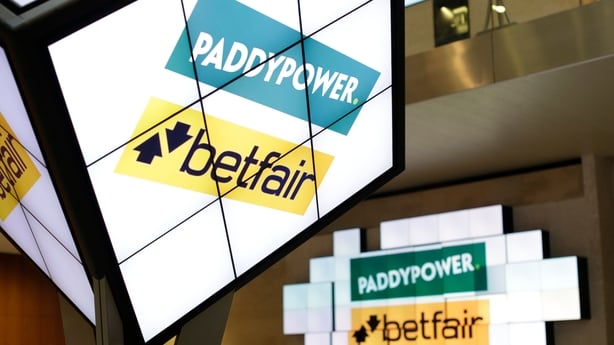 The guidance for underlying EBITDA of £470-495m compares to 18% growth last year, when earnings came in ahead of expectations at £473m.
Quarterly revenue was flat on constant currency terms as the company said customer activity in its main market of Ireland and the UK was hit by a sustained period of bookmaker friendly sports results and a high level of racing fixture cancellations.
The gambling group said in March that it would increase its marketing spend by £20m this year, an investment drive analysts said was welcome but nevertheless led to some short term earnings downgrades.
It said today it would invest an additional £10m in promotional activity in its Sportsbet business in Australia to take advantage of the potential disruption to competitors amid market consolidation there.
It said the share buyback programme was a step towards taking its medium term leverage to a target of 1 to 2 times net debt to earnings.
"Overall, we believe that the update re-emphasises what many holders already knew; returning the group to double-digit growth is going to take time," analysts at Davy Stockbrokers wrote in a note.
"The next quarter should see an improvement; the development team will have had a further quarter to roll out new product, while the (soccer) World Cup will provide an excellent opportunity to re-engage with customers," Davy added.
Paddy Power Betfair opened three shops in the UK and two in Ireland during the three month period, taking its total to 631 shops.