The Shannon Group, which includes Shannon airport, a number of tourist heritage sites, as well as industrial properties in the Shannon zone supports, 46,000 jobs and generates an economic impact of €3.6 billion a year to the region.
But new initiatives which support regional airports are essential if further growth is to be achieved, a new report said today.
The report on the Shannon Group's economic impact across the region predicts it could support an additional 7,150 jobs and increase its economic contribution to €4.2 billion by 2021.
But this is only if a number of specific policy initiatives that support new European routes into regional airports are adopted.
Shannon Group's chief executive Matthew Thomas said central to achieving growth in the coming years will be greater connectivity particularly to European hubs in a post Brexit economy.
This will further develop tourism and attract foreign direct investment to the West and Mid West areas.
Mr Thomas said this growth was also essential to achieve the regional balanced growth outlined in the National Framework Development plan.
The author of the report, Mark O'Connell - who assessed the group's potential as a catalyst for national prosperity - said strong airports are the lifeblood of regions as they support a whole range of economic activity.
However, he said, without increased capacity they can not grow.
International figures show that for every 2% of seat capacity growth it can mean a 1% increase in foreign direct investment.
In fact, all 16 Foreign Direct Investment announcements in the Shannon area in 2016 cited the airport as a factor in their investment decision.
Once passenger figures grew to 1.7 million through Shannon since 2012, tourism grew by 36% in the region along with an increase of 26% in FDI employment in the region.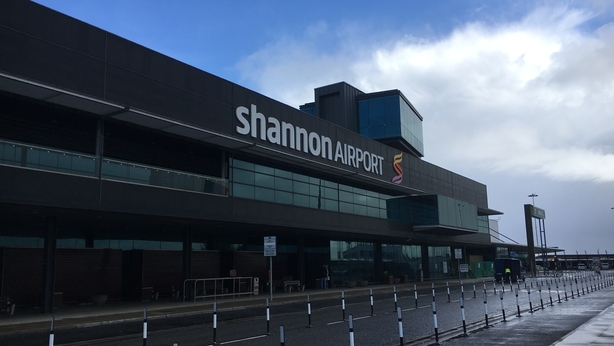 Business leaders in the region have said new policy initiatives by Government which positively discriminate in favour of regional airports are needed to secure their position as drivers of economic growth and balanced regional development.
James Ring, CEO of Limerick Chamber, said a specific ringfenced fund to incentivise new routes into Shannon and other regional airports like Knock and Cork, as well as increasing landing charges in Dublin, will provide the economic incentive for airlines to locate new routes elsewhere.
The challenge facing regional airports in securing those new routes was underlined even further today with DAA reporting a bumper increase in passenger numbers to 29.6 million, boosted by the launch of 14 new services last year.
Dublin has increased its passenger numbers by 55% in the past five years, and has added 127 new services over the past six years.
Those advocating for regional airports believe some of those new services should be encouraged to launch in airports outside Dublin for more balanced economic growth.