US media group Comcast today submitted a £22 billion bid for Sky, prompting the European pay TV group to drop its support for a lower offer from Rupert Murdoch's Twenty-First Century Fox.
Sky's independent directors welcomed Comcast's £12.50 per share bid and said they would now engage with both Comcast and Fox.
They cautioned that neither bid could yet be put to shareholders and advised them to take no action for now.
Fox, which already has a 39% stake in Sky, first announced its £10.75 per share cash offer in December 2016.
The deal has been held up by concerns about the influence Murdoch could wield over public opinion through owning all of the broadcaster as well as British newspapers including The Times and The Sun.
The proposed combination has been further complicated by Fox's agreement to sell many of its TV and film assets to Disney, including its stake in Sky, for $52 billion.
Sky today also welcomed commitments the US cable giant had made to address potential public-interest concerns over Sky News, its influential 24-hour news channel.
"As a result of the announcement of this higher cash offer, the Independent Committee is withdrawing its recommendation of the offer announced by 21CF on 15 December 2016 and is now terminating the co-operation agreement entered into with 21CF on the same date," Sky said in a statement.
Comcast's chairman and chief executive Brian Roberts said Sky withdrawing its recommendation was what it wanted to achieve by formalising its offer today.
"The board confirming they are going to focus on the shareholders, that's the perfect step as far as we are concerned today," he told reporters.
Sky is chaired by Murdoch's son James, who played a key role in building the company into a major European broadcaster with operations in Germany, Austria and Italy as well as Britain.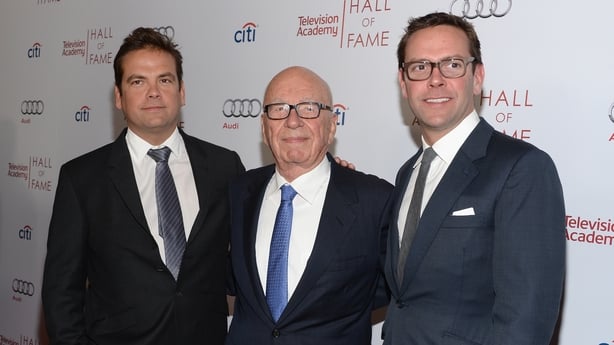 Sky formed a committee of independent directors to consider the bids, given James Murdoch's role as chief executive of Fox.
Fox said it remained committed to its cash offer for Sky and was considering its options.
Hedge fund Elliott has taken a stake of almost 3% in Sky, according to its latest filing, and other shareholders have also argued that Disney's agreement to buy Fox implies a higher value for Sky.
Comcast, which owns Universal Pictures and NBC, said it had formalised its offer to coincide with its own results, giving it an opportunity to explain to investors the merits of the bid.
Its quarterly earnings topped Wall Street expectations today. Its shares had fallen 14% since it proposed its bid in February.
Roberts said Comcast had been built through bold investments since it was founded by his father in 1963.
"When you see opportunities that won't come around again - unique opportunities - you have to consider that with extra focus," he said.
"Sky will be our platform for growth across Europe."
He said Comcast was continuing to work with the European Commission on the regulatory process, and he did not believe a British investigation would be required.
"We believe in the importance of news and the integrity that underpins it (and) we have a proven track record of stewardship and investment," he said.
Comcast said it had secured a bridge loan of up to £16 billion and a term loan credit agreement of up to £7 billion to fund the deal.