The Central Bank has said that another 3,400 customers have been affected by the tracker mortgage issue, bringing the total to 37,100 by the end of March.
In its latest Tracker Mortgage Examination, the Central Bank said lenders had paid out €459m to customers affected by their "failings", up €162m since its December update.
The industry-wide probe concerns customers who should have been given the option of a cheaper "tracker" mortgage that follows the low European Central Bank rate or kept on a better rate. 
The total number of affected accounts also includes 7,100 cases remedied following an earlier investigation.
The Central Bank said today that while it believes the majority of affected customers have been identified, it is expected that there will be some further increase in the number of affected customers before its investigation is concluded.
The bank said that extensive review and supervisory challenge work is ongoing. 
"While this work is well advanced, it will continue until the Central Bank is satisfied that all affected customers have been identified and included for redress and compensation," the regulator stated. 
Number of affected customers stood at 37,100 at end-March, an increase of 3,400 since December, largely as a result of verification process pic.twitter.com/uaFuK9CBq0

— Central Bank of Ireland (@centralbank_ie) April 25, 2018
The latest examination shows that 88% of all accounts identified and verified to date have received offers of redress and compensation, with the remaining 12% expected to receive their offers by the end of June.
Today's review shows that 63% of redress and compensation payments made by the end of March were under €10,000. 
Some 29% were in the €10,000 to €50,000 range, while about 6% were between €50,000 and €100,000.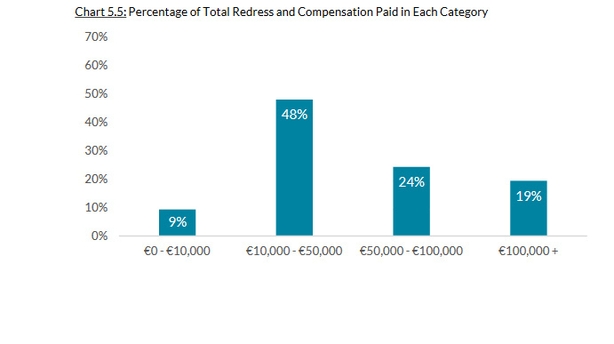 It also showed that about 450 people received redress and compensation of more than €100,000, including 11 customer accounts which received redress and compensation in excess of €500,000 due to loss of ownership of properties.
We need your consent to load this rte-player contentWe use rte-player to manage extra content that can set cookies on your device and collect data about your activity. Please review their details and accept them to load the content.Manage Preferences
e're using our powers to force the banks into remedying the scandal they caused. The payment of redress and compensation to those affected is now very significantly advanced, and proceeding in line with the timelines set out by the Central Bank," Ms Rowland said. 
She also said that consumers who receive a payment from their bank can cash their cheque safe in the knowledge that they can still appeal the amount they have been awarded. 
"The amount they have been awarded cannot be reduced as a result of an appeal: What they have, they hold," the Central Bank stressed.
Ulster Bank identifies up to another 2,000 impacted customers
Ulster Bank has confirmed that between 1,500 and 2,000 additional customers impacted by the tracker mortgage issue have been identified by the Central Bank's examination. 
The bank had already identified 3,490 affected mortgage accounts.
Ulster Bank said it is working to correct the rates - stop further harm - on these newly identified customers and this will be complete by the end of the third quarter. 
"We expect to substantially progress the redress and compensation payments to these customers by the end of Q3, with all of these customers to be completed in Q4," the bank said in a statement.
It also said it has made payments to over 2,500 customers so far and is on track to complete payments to the already identified 3,490 customers by the end of June.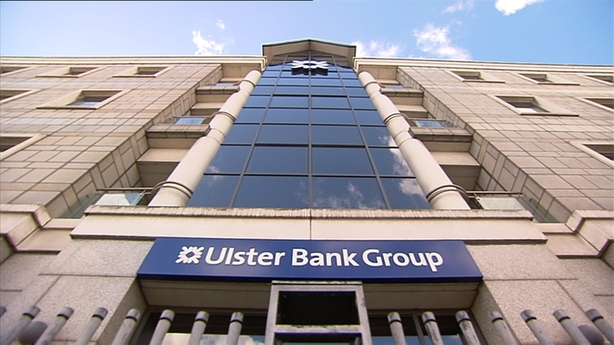 The lender also acknowledged the time it has taken to finalise these cases. 
"In all situations where there is confusion due to terminology in documentation, we have erred on the side of the customer," it stated. 
"While we expect that remediation will be complete by the end of this year, the appeals process will be available to customers beyond that point and for 12 months following receipt of remediation," it added.
Ulster Bank's outgoing chief executive Gerry Mallon said he wanted to reiterate his apology to the bank's customers for the time it is taking to make this right. 
"We continue to concentrate on making this right for customers and we expect to complete this process by the end of this year," he added. 
Bank of Ireland makes redress offers to 97.5% of affected mortgage account holders
In an update, Bank of Ireland said that offers of redress and compensation have now been made in relation to 9,096 customer accounts - 97.5% of all affected customer accounts
The bank said the total amount of redress and compensation offered to affected customers stands at €132m.
About eight in ten affected customers have received their redress and compensation with more than €102m paid out.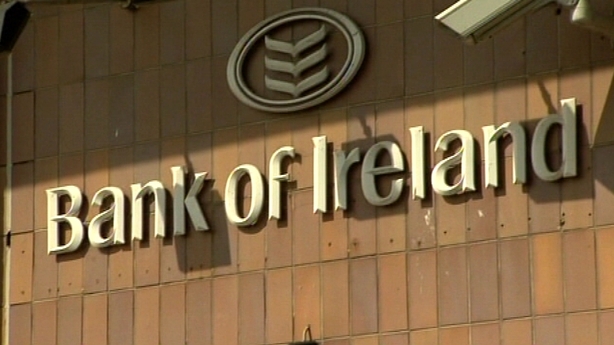 The bank said that "intensive efforts continue to trace a small number of remaining customers" who have not been contacted because they changed address or moved abroad.
Outstanding payments will be processed within three to seven days of the bank receiving payment instructions from customers, Bank of Ireland said. 
"Bank of Ireland is continuing to engage constructively with the Central Bank in order to bring this issue to the right conclusion for all impacted customers as swiftly as possible," the bank said.