Banco Santander, the euro zone's biggest bank by market value, posted a better-than-expected 10% rise in first-quarter net profit on strength in its largest market, Brazil. 
Santander is the first of the Spanish banks to report quarterly numbers.
It reported a net profit of €2.05 billion in the first three months of the year, from €1.87 billion a year ago. Analysts had forecast €2.01 billion in a Reuters poll.
The bank said its net interest income (NII), a measure of earnings on loans minus deposit costs, was €8.45 billion, up 0.6% from a year ago but down 1.8% against the previous quarter. 
Analysts had expected a NII of €8.49 billion. 
In Brazil, where the lender makes more than a quarter of its profits, net profit improved 7% from a year ago, boosted by solid loan growth. But in Britain, its second-biggest market, profit fell 23%. 
Santander's Latin American business has helped it through a squeeze on lending margins in Europe that is pressuring its rivals in Spain, such as BBVA and Caixabank. 
This year "has started well, with the group generating double digit profit growth driven by strong results in Brazil, Spain and Mexico, and improved performance in the United States," Ana Botin, Santander's executive chairman, said in a statement today. 
In Spain, where Santander consolidated lender Popular into its accounts since the third quarter after taking it over in June, net profit rose 26%. 
Santander reaffirmed its 2018 targets such as achieving double-digit earnings per share growth.
It finished the first quarter with a fully-loaded core capital ratio, a closely watched measure of a bank's strength, of 11%, compared to 10.84% in the previous quarter, and in line with its target for 2018.
Santander UK results hit by Carillion collapse
The bank said its UK pre-tax profits dropped 21% to £414m in the first three months of 2018 after being hit by "ongoing competitive pressures".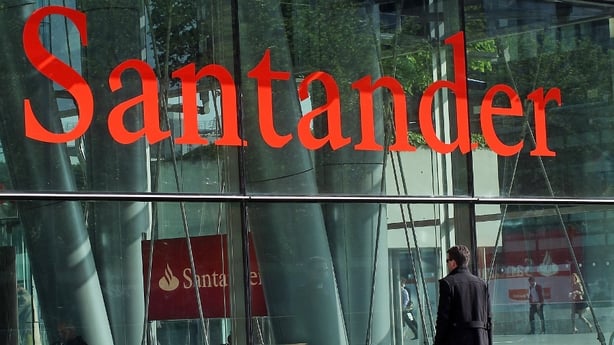 Santander UK said it took another hit from last year's collapse of construction giant Carillion, which contributed to a surge in first quarter credit impairment losses to £60m from £13m a year earlier.
Santander added that it would fail to meet its target for 4.7 million loyal retail customers this year, with current numbers standing at 4 million as it has struggled to attract savings deposits. 
Rates on a number of its savings products have not been increased since the rate hike last November, while its everyday and instant deposit accounts remain below the 0.5% base rate.
Santander said it expects the UK economy to continue growing this year "at a similar pace" to 2017 with strong global expansion and real wages growth in the UK providing a fillip.
But it warned that the inflation outlook could be higher than expected, which would hit real wages again and see consumer spending reined in once more. 
It saw UK mortgage lending increase by £1.9 billion to £156.8 billion, with gross lending standing at £7.6 billion in the first quarter alone. But savings deposits fell £700m to £60.1 billion.