Shares in Russian aluminium giant Rusal soared over 40% in Hong Kong today after the US Treasury said it would consider lifting sanctions if tycoon Oleg Deripaska gives up control of the company.
The Hong Kong-listed firm soared 43% to close at HK$2.18.
Rusal is the parent company of Aughinish Alumina in Co Limerick. The Askeaton company refines imported bauxite into alumina which is a major ingredient in the manufacturing of aluminium.
US President Donald Trump on April 6 imposed restrictions on Russian oligarchs close to President Vladimir Putin following the diplomatic crisis sparked by the poisoning of former spy Sergei Skripal.
Washington accused Deripaska of operating for the Russian government. Other magnates hit by sanctions include the director of state-owned energy giant Gazprom, Alexei Miller.
The announcement saw Rusal's share price collapse by about two-thirds over the next week, wiping billions of dollars off its markets capitalisation on fears about its ability to service huge debt obligations.
However, the US Treasury said it could lift the measures "through divestment and relinquishment of control of Rusal by Oleg Deripaska".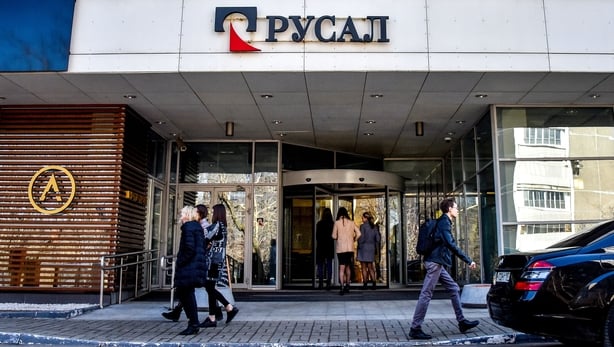 It also said it would give companies more time to comply with the sanctions.
Aluminium prices sank more than 7% on the London Metals exchange, having soared to seven-year highs in response to the measures.
Rusal accounts for about 7% of the world's aluminum production.
Other metals including gold, nickel and palladium also fell sharply.
Deripaska is seen as close to Putin, and also had dealings with Paul Manafort, the former chairman of President Trump's election campaign who is under federal indictment in part over those dealings.