UK shoppers stayed home in March as they felt the chill from the 'Beast from the East', leading to the biggest quarterly fall in retail sales in a year and weighing on first-quarter economic growth.
Unusually cold and snowy weather caused retail sales volumes to drop by 1.2% compared with the month before, the Office for National Statistics said.
The fall was bigger than most economists polled by Reuters had expected.
Looking at the quarter as whole, sales dropped by 0.5% compared with the final three months of 2017 - the biggest fall since the first quarter of 2017.
The ONS said this was likely to lop 0.03 percentage points off first-quarter GDP growth, which other analysts forecast at around 0.3%.
Sterling fell to a one-week low after the data, which caps a week where wages rose more slowly and inflation dropped quicker than expected, raising doubts about how far the Bank of England will raise interest rates this year.
However, few economists are willing to ditch their predictions that the Bank of England will increase rates next month for only the second time since the financial crisis, even if odds on a further rate rise this year have been lengthening.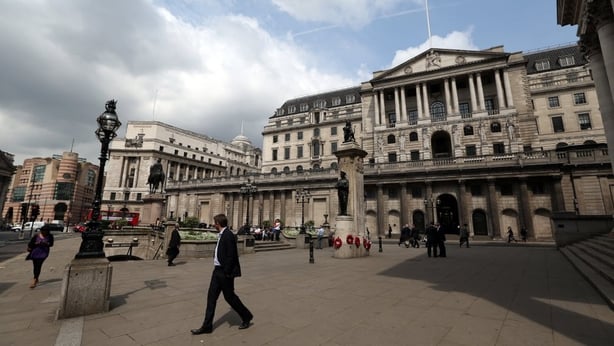 The data may not cut much ice with the Bank of England, which last month said it expected the wintry weather to slow overall economic growth temporarily but not affect an underlying picture that pointed towards higher interest rates.
The Bank of England is likely to stick to its view that the labour market is primed for a pick-up in wages, as unemployment is at a 42-year low, leading to stronger consumer demand later this year as inflation continues to fall.
The ONS said automotive fuel sales fell particularly sharply in March, but that department stores reported strong online demand, especially in the run-up to Mother's Day and Easter.
It said there was anecdotal evidence that food shoppers switched away from supermarkets to smaller local stores.
The UK economy underperformed its rivals last year as higher inflation - caused by the fall in the pound since June 2016's Brexit vote - hurt the consumers' spending power, though forecasts for a sharp downturn proved too pessimistic.
Official data earlier this week showed British inflation fell to 2.5% from 2.7%, its lowest in a year and below Bank of England forecasts.
The gauge of inflation used in the UK retail sales data, the retail price deflator, sank to its lowest since January 2017 at 1.9% in March.
The ONS said that retail sales in cash terms recorded their weakest annual growth since June 2016, expanding by just 3%.
In volume terms, sales rose 1.1%, the ONS said, compared to expectations of a 2% rise in a Reuters poll.
British retail chains - whose profits typically hinge on cash spending rather than volumes - have had a tough few months.
Earlier today department store Debenhams warned about its full-year profit outlook for the second time in four months after its first-half profit more than halved.
Major flooring retailer Carpetright said last week it would seek creditor approval for a restructuring plan to close nearly a quarter of its stores, and Toys R Us UK and electrical store Maplin closed their doors recently.
But others such as online fashion retailer ASOS and discount clothing chain Primark are doing better.