China's economy grew at a slightly faster than expected pace of 6.8% in the first quarter, buoyed by strong consumer demand, healthy exports and robust property investment.
Resilience in the world's second-largest economy will likely help keep a synchronised global recovery on track for a while longer.
However China is facing rising trade tensions with the US that could impact billions of dollars in business.
Economists still expect China will lose some momentum in coming quarters as Beijing forces local governments to scale back infrastructure projects to contain their debt, and as property sales cool further due to strict government controls on purchases to fight speculation.
Consumption, which accounted for almost 80% of economic growth in the first quarter, played a significant role in supporting the economy even as risks grew for Chinese exporters.
March retail sales rose 10.1% from a year earlier, slightly more than expected and the strongest pace in four months, with consumers buying more of almost everything from cosmetics to furniture and home appliances.
China's first-quarter gross domestic product growth was also backed by robust exports, with shipments to the US jumping 14.8%.
Some analysts have speculated Chinese firms may have rushed out deliveries to the US as tariff threats loomed.
Analysts polled by Reuters had expected January-March GDP to grow 6.7% from a year earlier, slowing marginally from 6.8% in the previous two quarters but remaining remarkably steady for such a large and dynamic economy.
On a quarterly basis, GDP grew 1.4%, slightly less than expected and easing from 1.6% in the three months from October to December.
Growth has remained comfortably above the government's target of around 6.5% for the full year, giving policymakers room to further reduce risks in China's financial system and rein in pollution without stalling economic growth.
Authorities have repeated pledged to reduce a mountain of corporate debt in the name of national security, though they have moved cautiously to avoid stunting business activity.
Beijing has also stuck to its campaign of closing heavily polluting factories as it tries to encourage more sustainable and higher quality growth from sectors such as technology.
Smokestack industries have been a key focus of that pivot in industrial policy, even though it is weighing on China's overall manufacturing outlook.
Industrial output expanded 6% in March on an annual basis, the slowest pace in seven months.
Analysts had predicted output growth would cool to 6.2% from 7.2% in the first two months of the year.
First-quarter readings on China's property sector, a key economic driver, were mixed but also appeared to reflect the growing influence of changing government policies.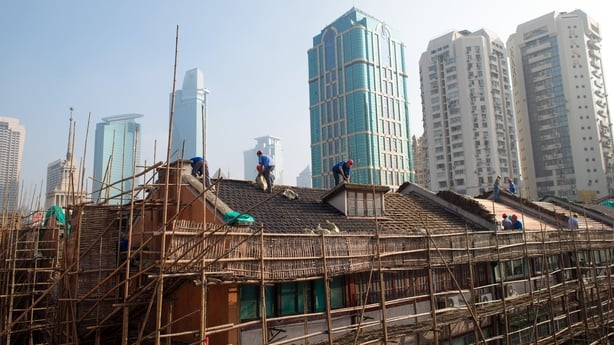 Real estate investment accelerated to 10.4% in the quarter - the fastest pace in three years - compared with a 9.9% rise in the first two months of this year.
Analysts say a significant rise in land prices, as well as a government push to build more public housing, could have contributed to the unexpected strength in the headline figure and a jump in construction starts.
Property sales, however, continued to slow amid a flurry of government measures to get soaring home prices under control. Sales by floor area rose 3.6% in the quarter, easing from earlier in the year.
Fixed-asset investment has also faltered as Beijing urges local governments to refrain from rampant borrowing to finance glamour projects to beat economic growth targets.
January-March fixed-asset investment growth slowed to 7.5%, below expectations and a figure of 7.9% in January-February.
Infrastructure investment rose 13% on-year, easing slightly from January-February.
Meanwhile, private-sector fixed-asset investment rose 8.9% in the three months from January to March, accelerating from an increase of 8.1% in the first two months.
Private investment accounts for about 60% of overall investment in China.
Despite a more upbeat first quarter than expected, analysts still predict China's economic growth will slow to 6.5% this year, with the ongoing regulatory crackdown and US trade dispute seen as key risks, a Reuters poll showed.