Aer Lingus and British Airways-owner IAG has said it is considering making an offer for Norwegian, a low-cost carrier worth about $1.2 billion.
A deal would expand IAG's budget offerings and give it control of a struggling rival.  
IAG said today it had bought a 4.61% stake in Norwegian as a platform for starting talks, and that could lead to it making a full offer for the airline founded by former fighter pilot Bjorn Kjos. 
"IAG confirms that no such discussions have taken place to date, that it has taken no decision to make an offer at this time and that there is no certainty that any such decision will be made," IAG said. 
Shares in Norwegian, a stock which this year has been pounded over worries about its profitability, surged 37% on the news. 
A trailblazer of low-cost long-haul flying in Europe, Norwegian has been leading the charge to eat into the trans-Atlantic market where traditional full-service carriers like British Airways have historically made most of their profits. 
Norwegian has already made its impact felt - British Airways and others have recently tried to compete more directly with Norwegian by introducing basic economy fares. 
But Norwegian's fast expansion has left it under pressure to control costs and shore up its balance sheet. 
That has provided IAG, formed in 2011 through the merger of traditional flag-carriers British Airways and Iberia and led by CEO Willie Walsh, with an opportunity, say analysts. 
Seasoned deal-maker Walsh was much quicker than rival full-service airlines Air France-KLM and Lufthansa to embrace budget flying, buying short-haul carrier Vueling in 2015 and setting up IAG's own long-haul low-cost carrier Level last year.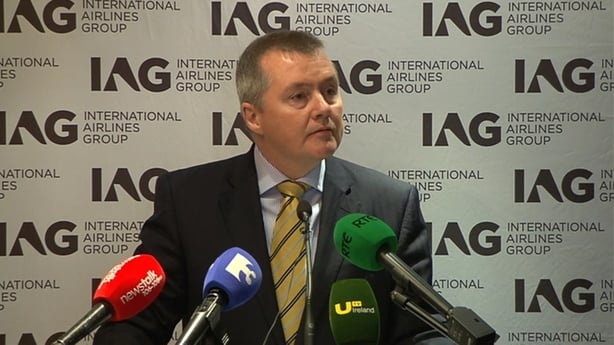 "Willie Walsh has long been interested in the low-cost long haul concept, long before the creation of Level. This may be an attempt to accelerate its development, while also adding to the scale and reach of Vueling in the intra-European market," analysts said. 
Adding Norwegian's short-haul operations in Europe to Vueling would create a budget carrier better placed to compete against the continent's two biggest low-cost airlines Ryanair and EasyJet. 
Analysts said a full takeover could be expensive but suggested a partnership deal would benefit both parties.
Highlighting the difficult state of Norwegian's finances, the airline last month raised $168m in a share sale after warning of a larger than expected first-quarter loss. 
Norwegian said in its statement that it had no prior knowledge of IAG's actions, but welcomed the investment. 
"Norwegian believes that IAG's interest in the company confirms the sustainability and potential of our business model and global growth," it said. 
Norwegian's shares, temporarily halted after the IAG news, rose as much as 39% to 250 crowns when they resumed trading, valuing the company at 9.5 billion Norwegian crowns ($1.22 billion). 
But analysts said there will be no buying Norwegian on the cheap. Even after today's rally, Norwegian's founder and top owner, CEO Kjos who controls a quarter of the company's shares, is expected to demand a significantly higher price before selling.
Kjos was not available for comment when contacted by Reuters.
IAG's interest in Norwegian would see a wave of consolidation in European air travel which started last year extend its reach to long-haul travel. 
Lufthansa and easyJet expressed interest in Italy's struggling Alitalia this week. 
Ryanair last month agreed to buy a majority stake in a new Austrian leisure airline founded by Formula One former champion Niki Lauda, while easyJet bought a parts of failed airline Air Berlin last year. 
IAG has a market capitalisation of about £12.6 billion.