US consumer prices fell for the first time in 10 months in March, weighed down by a decline in the cost of petrol, new figures show today.
But underlying US inflation continued to firm amid rising prices for healthcare and rental accommodation.
The drop in the headline monthly inflation reading reported by the Labor Department today is likely temporary, with producer prices increasing solidly in March.
In addition, the tightening labour market is expected to start generating significant wage inflation in the second half of the year.
As such, many economists believe the Federal Reserve will raise interest rates three more times this year.
The Fed increased borrowing costs last month and forecast at least two additional rate hikes in 2018.
The US consumer price index slipped 0.1% last month, the first and largest drop since May 2017, after climbing 0.2% in February, the Labor Department said.
In the 12 months to March, the CPI increased 2.4% - the largest annual gain in a year and following February's 2.2% increase.
Annual inflation is rising as the weak readings from last year drop from the calculation.
Excluding the volatile food and energy components, the CPI climbed 0.2%, matching February's increase.
The so-called core CPI rose 2.1% year-on-year in March, the largest advance since February 2017, after increasing 1.8% in February. The core CPI is now well above the 1.8% annual average increase over the past 10 years.
Economists had forecast the CPI unchanged in March and the core CPI rising 0.2%.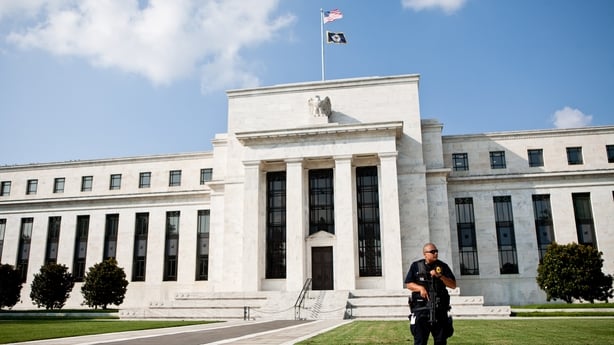 The Fed tracks a different index, the personal consumption expenditures price index (PCE) excluding food and energy, which has consistently run below its 2% target since mid-2012.
US inflation is also expected to get a boost from a $1.5 trillion income tax cut package and increased government spending, as well as a weakening US dollar. Economists expect the core PCE price index will breach its target sometime this year.
Today's figures showed that petrol prices tumbled 4.9% in March, the largest drop since last May, after falling 0.9% in February. Food prices edged up 0.1% after being unchanged in February.
The core CPI was lifted by rising rents and healthcare costs. Owners' equivalent rent of primary residence, which is what a homeowner would pay to rent or receive from renting a home, increased 0.3% last month after climbing 0.2% in February.
US healthcare costs increased 0.4%, with prices for hospital care shooting up 0.6% and the cost of doctor visits rising 0.2%.
Healthcare costs rose 2% year-on-year, below the 2.9% average annual rate over the past 10 years.
Clothing prices fell 0.6% after two months of robust increases in a row. There were also declines in the cost of telecommunication, used cares and trucks, tobacco and education.