The National Treasury Management Agency has published additional information on yesterday's €4 billion syndicated bond sale.
The extra information includes a breakdown of investors by category and geography. 
The main investor categories for yesterday's bond were asset managers, insurance companies and pension funds (53%), banks (25%), central banks and official institutions (9%) and hedge funds (13%).
According to the NTMA, country distribution was the UK at 46%, followed by Germany, Austria and Switzerland at 13%, the Nordic region at 8%, France and Italy at 7% each and the Americas at 6%.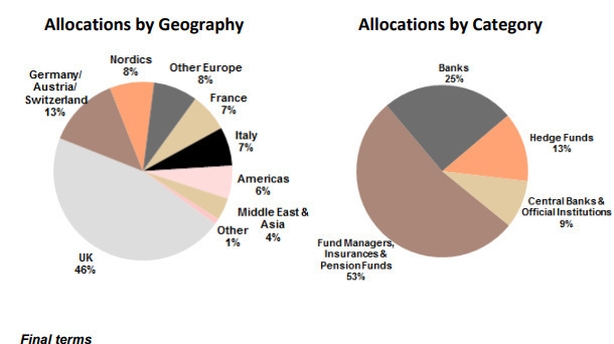 With yesterday's syndicated bond issue, the NTMA has issued €10.25 billion worth of bonds so far this year.
The NTMA's Director of Funding and Debt Management Frank O'Connor said the agency has now exceeded 60% of the mid-range of its target issuance of €14-€18 billion for the year.