The unemployment rate remained unchanged at 6.1% between February and March, according to the latest figures from the Central Statistics Office.
However, the rate was down 0.9% annually, with 19,100 more people at work than at the same time last year.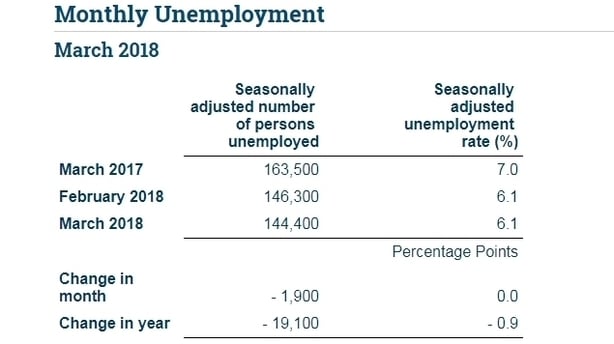 This compares with an average jobless rate of 8.5% across the euro zone.
In number terms, there were 144,000 people in the country without a job last month, marginally lower than the 146,300 recorded in February.
March was the first month since last August where the rate did not fall.
The unemployment rate has fallen almost 10% in just over six years - down from a high of 16% at the beginning of 2012.
Youth unemployment saw a marginal monthly fall in March, down by 0.2% to 12.5%.
The number of males unemployed in March was 83,100, down from 84,400 in February, while the number of females unemployed was 61,300, a decrease of 500 when compared with the previous month.
Commenting on the figures, Alan McQuaid from Merrion Economics said: "Although emigration has been a factor to some degree in keeping unemployment down since the financial crisis, the labour market has improved dramatically over the past few years, reflecting the strengthening of the economic recovery. Indeed, the most recent migration estimates showed net inward migration of 19,800 in the year to April 2017 as against net inward migration of 16,200 in 2016, and the highest net inflow since 2008."
He added "while there has been a sharp drop in the headline unemployment rate, the adjusted jobless rate for persons aged 15-24 years (youth unemployment) remains elevated, although it fell to 12.5% last month from 12.7% in February and 12.9% in January.
"The rate has declined from 17.5% in March 2016, but the bottom line is that youth unemployment is still far too high.
"The Government needs to put particular focus on getting this rate down into single digits as quickly as possible."