A new study of the Dublin property market reveals that the number of house sales rose by 16% last year, rising from 15,058 to 17,491.
The total value of transactions for the year was also up, rising by 21% to €7.4 billion, according to the Home.ie research, which was based on an analysis of the Property Price Register.
The research noted that the number of house sales rose in all but four of Dublin's 22 postal code districts.
Dublin 15 was the postal district with the highest number of sales during the year at 1,640. It was followed by Dublin 18 on 1,029 with Dublin 24 in third place on 939.
The post codes which recorded the biggest increases were Dublin 17, where sales rose 88%. Sales in Dublin 24 were up 71% and sales in Dublin 13 rose by 55%.
The four post codes which recorded falls were Dublin 20, with sales down 47%. Sales in Dublin 4 were down 28%, while they fell by 16% in Dublin 9 and by 3% in Dublin 7.
Meanwhile, sales in Co Dublin rose from 3,900 to 4,669, an increase of almost 20%.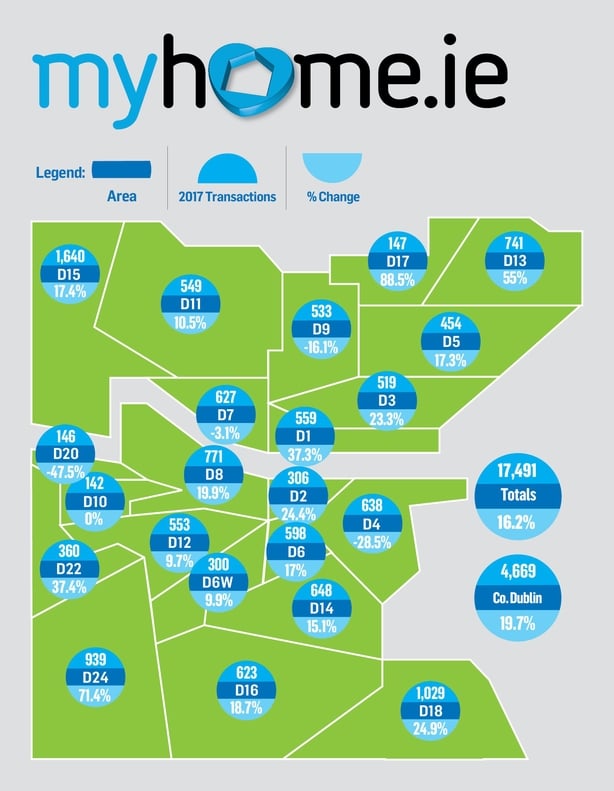 Swords in North County Dublin led the way on 575 sales, just pipping Dun Laoghaire on 572 with Lucan on 329.
Angela Keegan, Managing Director of MyHome.ie, said the post codes recording the largest number of sales and the biggest increases were generally to be found along the M50.
Ms Keegan said this highlighted the issue of urban sprawl and the need for an enhanced public transport network for the city.
"Commuting times and urban sprawl go hand in hand and unless Dublin develops and increases the capacity of its public transport network this is a problem which is only going to intensify," she said.
"The new MetroLink isn't due to open until 2027 so anyone buying a new house in north or south county Dublin in the coming years will have to factor in lengthy commuting times," she cautioned.