The Bank of England kept rates steady today but two of its policymakers unexpectedly voted for an immediate rate rise, in a statement that will boost investors' confidence that borrowing costs will rise in May. 
Ian McCafferty and Michael Saunders - who were the first officials to call for rates to rise in 2017 - said it was now time for rates to increase again for only the second time since the 2008 financial crisis. 
Globally, the economy is growing at its fastest rate since the 2007-2008 financial crisis, helping Britain's at a time when it is suffering from uncertainty about Brexit. 
The US Federal Reserve last night raised rates for the sixth time since the financial crisis. 
Even the European Central Bank - which is still struggling with anaemic price growth - has its eye on phasing out its massive bond purchases. 
The Bank of England's Monetary Policy Committee as a whole voted 7-2 to keep rates at 0.5% but said "ongoing tightening" was likely to be needed to return inflation of 2.7% back to target. 
Last month Bank of England Governor Mark Carney and his colleagues surprised markets by saying rates might need to go up faster than expected.
They said this was due to a strong global economy and an inflation rate that is running uncomfortably above target. 
The Bank of England said today that economic developments since then broadly backed up this view. 
"Given the prospect of excess demand over the forecast period, an ongoing tightening of monetary policy over the forecast period would be appropriate to return inflation sustainably to its target at a more conventional horizon," the bank said. 
The bank raised rates for the first time in over a decade in November, reversing an emergency cut made not long after Britain's June 2016 Brexit vote when the economy appeared to be cratering. 
Since then, growth has proven better than expected - though last year the UK economy lagged a global upturn as high inflation caused by sterling weakness since the vote ate into households' disposable income. 
No economist polled by Reuters expected the Bank of England to follow up on its rate hike in November - its first since 2007 - with a rate hike at its March meeting.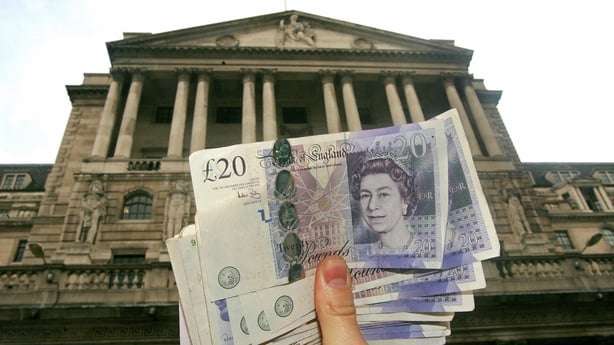 Only a minority expected Saunders or McCafferty to vote for a rise. 
One major stumbling block was removed this week when Prime Minister Theresa May agreed a transition deal with the European Union to leave trade relations between Britain and the bloc unchanged after Brexit in March next year until the end of 2020. 
The Bank of England said this had given a boost to sterling.
Data earlier this week that showed pay growth at its highest since 2015 also bolstered policymakers' certainty that domestic cost pressures were building, hampering inflation's return to target. 
The UK government also announced a 6.5% pay rise for many public health workers over the next three years, breaking with seven years of pay restraint. 
The growth picture in Britain is more muted. Last month the Bank of England forecast growth of 1.8% this year and next - well below Britain's historic average - and last week government forecasts were gloomier, with Brexit exerting a drag on the outlook. 
The Bank of England said today that snow in March was likely to cause first-quarter growth to slow to 0.3%, but that this did not affect the medium-term outlook for growth.