New figures from the Central Bank show that the number of home mortgage accounts in arrears fell for the 18th quarter in a row during the fourth quarter of last year.
The Central Bank said the number of homeowners in arrears for more than 90 days fell to 6.6% at the end of 2017 from 6.9% three months earlier - the fastest quarterly drop in two years.
Arrears began falling from a peak of 12.9% in 2013, in line with an economic recovery, but the pace had slowed and stood at 7.4% a year ago.
The number of accounts in arrears over 720 days declined by 8.5% to just under 29,000 at the end of December, representing more than half of homeowners who have missed three or more payments.
But mortgage accounts in arrears of up to 90 days rose by 254 (1.2%) in the fourth quarter of 2017 to 22,055 after a decline of 155 in the previous quarter.
The number of mortgage accounts in areas for over 360 days fell to 36,954 in the last three months of the year, down 2,195 over the quarter.
Meanwhile, accounts in arrears of between 361 and 720 days showed an increase of 6.4% over the quarter to total 8,019.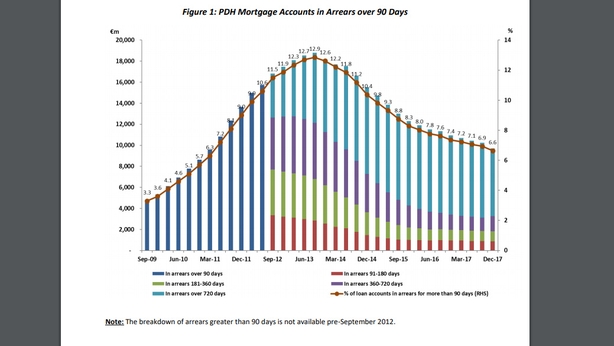 Today's figures also show that the number of home mortgage accounts that were classified as restructuring by the end of December stood at 118,477. 
Of these, 87% were meeting the terms of their current restructuring arrangement, down slightly from the previous quarter.
The Central Bank noted a continued reduction in short-term restructure arrangements such as interest only and reduced payments, which was partly offset by an increase in longer-term arrangements such as arrears capitalisations.