The chief executive of Permanent TSB has said it will "simply not be possible" to meet European Central Bank targets to reduce the level of non-performing loans in the bank without resorting to the sale of mortgages. 
Jeremy Masding made his comments at the Oireachtas Finance Committee which is discussing the sale of mortgage loans to vulture funds. 
The bank has been heavily criticised since it unveiled plans in February to sell €3.7 billion of distressed mortgages. 
Mr Masding told the committee that at the end of 2017 the ratio of non-performing loans on its balance sheet was 26%.  
"Given the State owns 75% of Permanent TSB it is very much in the State's interest that the bank manages its non-performing loans down to a tolerable level" he said.  
He told the Committee that while the regulator had not insisted on the sale of mortgage loans, the regulatory guidance makes a loan sale an inevitable choice by the bank.  
"It is simply not possible to meet the regulators target and timescale within the capital envelope without a loan sale" he said.  
Permanent TSB says it has no option but to sell non-performing loans pic.twitter.com/CAK56PuGWB

— RTÉ Business (@RTEbusiness) March 22, 2018
Mr Masding told the Finance Committee that Permanent TSB has embraced different approaches to dealing with mortgage debt, including debt write off once a property had been surrendered for sale. 
The committee also heard that since September of last year around 1,300 buy-to-let properties were surrendered to Permanent TSB under a scheme which allows for the write off of debt linked to investment properties. 
Mr Masding said Permanent TSB has also facilitated substantial debt write off in cases of voluntary surrender involving a home loan, and has supported the mortgage-to-rent scheme. 
However he said the ratio of non-performing loans to total loans remains stubbornly high, and there was a binding constraint on the bank to make progress on reducing the high ratio.  
He said reducing the ratio of non-performing loans on the bank's balance sheet must be done "dramatically and quickly". 
"If that is not agreed then all Irish taxpayers should recognise the consequences therein," he warned. 
PTSB bosses accused of "throwing customers to the wolves" if home loans are sold to vulture funds pic.twitter.com/gbGMzGDS8V

— RTÉ Politics (@rtepolitics) March 22, 2018
The committee was also told today that 4,300 split mortgages will be sold as part of PTSB's loan sale.  
However even though these loans are currently being paid off, the bank said they deemed to be non-performing loans under its interpretation of EU regulatory rules. 
Fianna Fáil's McGrath said there was a clause in the terms of the split mortgage agreement which allowed the bank, or a vulture fund, to terminate the split mortgage without any reason. 
The Fianna Fáil TD said it was "far more likely that a vulture fund would terminate at will" using this clause.  
But Permanent TSB's group director of operations Shane O'Sullivan said that was speculation.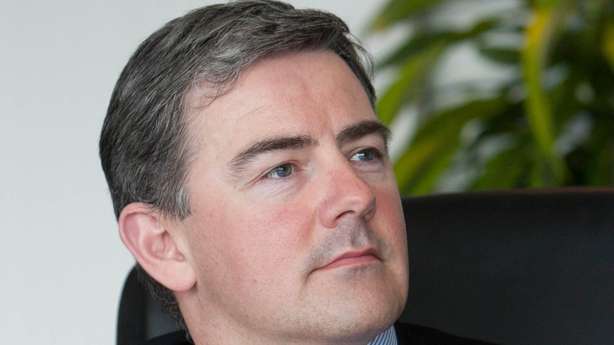 Sinn Féin's Pearse Doherty said other banks had a different interpretation of the rules, adding that split mortgages held by AIB are deemed to be performing loans under EU rules. 
"Is it maybe the case that you have got seriously bad legal advice in the structuring of your split mortgages, that you have found yourself in a situation where your split mortgages were deemed as non-performing, and other split mortgages are deemed as performing," he said. 
Permanent TSB's chief risk officer Stephen Groarke said it may be the case that AIB have set up their split mortgages in a way that allows them to navigate the rules around this.  
Deputy Doherty said the bank was going to "throw its customers to the wolves". 
The chair of the committee, Fianna Fáil's John McGuinness, told senior representatives of Permanent TSB today that "Pontius Pilate would be cringing listening to them" in relation to their plans to sell some mortgage loans to investment funds. 
Deputy McGuinness also pressed them on why they would not sell their distressed loans to customers for the discount they were intending to give to so the vulture funds.  
During terse exchanges, PTSB's chief executive said the bank could not do debt forgiveness.
But Deputy McGuinness said customers may pay more than what they would receive from a vulture fund for the restructured loan. 
"Why not give them the benefit of what you are about to do? And allow them to stay in their own home and pay a restructured loan?" Deputy McGuinness asked. 
"That's debt forgiveness and we don't do debt forgiveness," Mr Masding responded. 
PBP-Solidarity's Paul Murphy raised the issue of tenants of distressed buy-to-let owners, who now risked eviction if the loan is sold.

Shane O'Sullivan from PTSB told Deputy Murphy that they could not speak as to how the potential buyer of the property might manage or service the loan once it is sold. 
"That's the point isn't it, you wash your hands of it, hand it over to someone else to do the dirty work. You sold these people's homes to vultures who don't care about the loan," Deputy Murphy told senior representatives from the bank. 
Deputy Murphy asked PTSB management what would they do if the Minister for Finance asked them not to go ahead with the sale and find an alternative solution, such as selling to another bank. 
"We would consider every option," Mr Masding said. 
AIB executives also attended today's Finance Committee meeting.