Fuel forecourt retailer Applegreen has reported higher profits and revenues for the year to the end of December as the business saw significant expansion during the year.
Applegreen said its adjusted profit before tax for the year rose by 17.7% to €24.6m from €20.9m in 2016.
The company said its gross profits increased by 24.6% to €181.7m from €145.8m, while its revenues for the year grew by 21% to €1.428 billion.
Applegreen, which operates in Ireland, the UK and the US, said it was proposing a final dividend of 0.80 cent per share, giving a total dividend for the year of 1.40 cent.
It noted like-for-like growth of 7.4% in its non-fuel (or food and store) gross profit.
During the year, the company grew its estate by 99 sites to 342 sites and opened 77 new food outlets. This included 22 in the Republic of Ireland, 20 in the UK and 57 in the US. 
The company also completed two major deals last year for the Brandi and Carsley companies. 
The Brandi deal saw Applegreen take over a forecourt retailer based in South Carolina with 34 petrol filling stations and eight standalone Burger King outlets. 
The Carsley deal involved the takeover of seven petrol filling stations in the UK, several of which have the potential to develop into larger service area facilities.
Applegreen's chief executive Bob Etchingham said Applegreen continued to deliver on its growth strategy.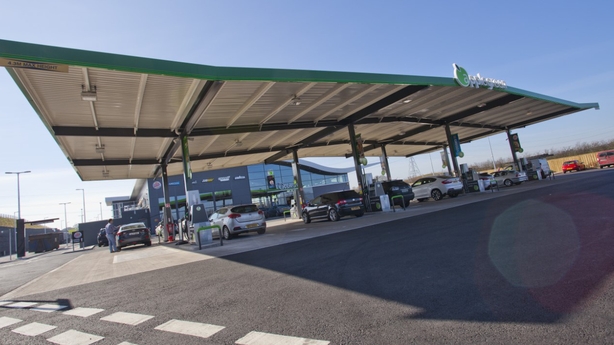 "This performance was underpinned by positive like for like growth, particularly in the Republic of Ireland, ongoing expansion of our estate and an enhanced fuel margin resulting from our acquisition of a 50% stake in the Joint Fuels Terminal in Dublin Port," he added.
Mr Etchingham said the company is confident for its prospects in 2018 as its underlying business continues to perform well.
"The significant acquisitions completed in 2017 are performing as expected and we are well placed to progress both our organic and acquisitions led development plans in the coming year," he added.
Applegreen said that revenues in its Irish operations rose by 12.3% and gross profits increased by 16.5%. 
Total fuel gross profit grew by 21.1% compared to 2016 on the back of the impact of the Joint Fuels Terminal in Dublin Port during the year.
Meanwhile, revenues in its UK operations increased by 22.4% and gross profit rose by 19.7%, mainly due to the continued expansion of the business there.