AIB has increased the amount of money set aside to repay tracker customers by €40 million.
The bank, which issued financial results today, confirmed it had increased its provision from €190 million to €230 million for customers wrongly moved from the low interest loans. 
CEO Bernard Byrne said the number had increased as the bank brought the issue to "finality". 
He added that he expected 95% of customers would be fully redressed by the end of March. 
Mr Byrne declined to comment on reports it is at an advanced stage to sell commercial and buy-to-let loans to so called vulture funds. 
He did say that the bank does not have plans to sell any owner occupier loans. 
Earlier, AIB reported profits before tax and exceptionals of €1.6 billion for the year to the end of December after what it called a "pivotal year" for the bank.
In its first set of annual results since the Government sold a 29% stake in Europe's largest initial public offering last year, AIB proposed dividend payments at 12 cent per share, totalling €326m.
That compared to a €250m payment made to the Government a year ago when the then 99.9% state-owned bank became the first Irish lender to restart dividend payments since the financial crisis. 
AIB said the level of impaired loans at the bank fell by €2.8 billion to €6.3 billion, which it said marked a 78% decrease since 2013.
It said it was making "steady progress" on its impaired loans as it continue to move to "more normalised European peer levels". 
It has almost 1,500 employees working in the bank's Financial Solutions Group, which agreed on average over 1,000 such solutions each month last year.
AIB chief executive Bernard Byrne said the bank has no plans to sell off any impaired owner occupier home loan portfolios.
AIB has 'no plans' to sell off impaired loans portfolio pic.twitter.com/FNTW0yoUls

— RTÉ Business (@RTEbusiness) March 1, 2018
Speaking on Morning Ireland, Bernard Byrne said the bank's overall ambition to get its level of impaired loans down to more normalised European levels by 2019 does not require it to sell off any loans.
Mr Byrne said the bank was not actively looking at any private dwelling home portfolio loan sales. "The issue is not on the active runway," he stated.
AIB said that personal lending in Ireland was up 16%, business lending was up 15%, corporate lending rose by 15% and mortgage lending increased by 17%, with the bank's market share of mortgage drawdowns for the year coming at 33%. 
We need your consent to load this rte-player contentWe use rte-player to manage extra content that can set cookies on your device and collect data about your activity. Please review their details and accept them to load the content.Manage Preferences
It also noted that its UK business saw new lending business recover, increasing by 12% from 2016 levels. 
"Against the backdrop of an improving Irish economy, these strong results confirm that we are generating significant amounts of capital and are on track to meet our medium term targets on a sustainable basis," AIB's chief executive Bernard Byrne said.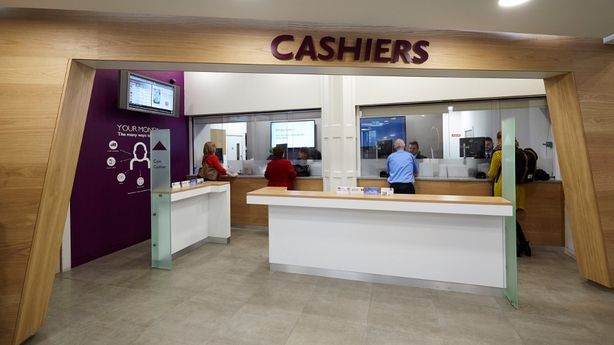 On Brexit, the bank said it remains an area of concern but to date there has been little net impact on the Irish economy. 
"The UK economy has been negatively impacted, however, and we will continue to monitor this in the context of the Irish economy, the bank and our customers," Bernard Byrne said.
"The successful completion of the IPO demonstrated strong market sentiment towards AIB and the Irish economy. The next step on that journey is a matter for the Government," he added.
AIB said today that its Tier One capital ratio rose to 17.5% from 15.3% a year ago, far above its medium term target of 13%. 
Its expected level of excess capital over the next two to three years was a key selling point in last year's IPO. 
AIB plans to return the excess capital to shareholders in the first part through normal dividends with the remainder available via special buybacks or other means.
Its net interest margin at the end of December rose to 2.58% from 2.57% in the third quarter.