Aer Lingus has reported an operating profit of €269 million for the year to the end of December, an improvement of 15%, over the previous year.
The airline, which is owned by IAG, said its capacity increased by 12.1% with the introduction of an additional Airbus A330.
That compares to a 19% rise in profits in AIG itself, which also owns British Airways and Iberia.
IAG CEO Willie Walsh said he thought it was a "very good performance by Aer Lingus" even though its growth lagged behind other IAG airlines.
"It slightly lagged behind the group's improvement but I think the group benfitted from an outstanding performance by Vueling. As you may recall, our Spanish low cost carrier had some significant challenges in 2016 and recovered very strongly in 2017," Mr Walsh said.
He said Aer Lingus's performance demonstrates the commitment that the team has to expanding the airline, particularly transatlantic routes providing new links between Ireland and North America.
Mr Walsh said there has been good dialogue between Aer Lingus and Dublin Airport despite concerns voiced last year over the infrastructure bottlenecks at the airport, and how that could jeopardise further growth at the airline.
We need your consent to load this rte-player contentWe use rte-player to manage extra content that can set cookies on your device and collect data about your activity. Please review their details and accept them to load the content.Manage Preferences

"We did experience some operational challenges during the peak summer period last year. Our concern relates to our plans for the future and if we continue to grow as we have been, and want to - we've made significant aircraft orders - then we are looking at a very significant bottleneck unless steps are taken now," he said.
"I am pleased that the airport has responded positively, and we've had very good and constructive dialogue with them. I think our interests are completely aligned here. They want to see Dublin Airport succeed. We want to see it succeed and we particularly want to expand the Aer Lingus presence on the transatlantic from Dublin, and continue to develop Dublin as an exciting hub."
The IAG CEO disgreed that relations between Aer Lingus and Dublin Airport had soured as described by the company's chief operating office last year.
"There are moments when we go through bits of disagreement but in the main the high level relationship is quite strong, and we are encouraged by the response that we've seen from the airport, and I hope that will continue." 
Asked if Aer Lingus would be willing to contribute more to Dublin Airport in terms of fees, Mr Walsh said he did not believe fees should increase.
"We are bringing more passengers to Dublin. More passengers through the existing infrastructure should reduce fees and that's the argument we have. If you can take full advantage of the opportunities for growth, you can actually make the hub more efficient and drive down the costs, and that's the business model that we at IAG have, and it's the business model that Aer Lingus as an airline has demonstrated can be very successful."
Aer Lingus has threatened in the past to shift its growth plans elsewhere, and Mr Walsh said the threat remains. 
"It's real because we have the commitment to the aircraft. These aircraft have been ordered. They have been designated for Aer Lingus. Aer Lingus wants to operate them from Dublin Airport. If they feel that they can't do that efficiently, then the options are for Aer Lingus to operate those aircrafts from other airports and not necessarily within Ireland, or for the aircraft to go to other parts of IAG."
He denied that he was holding the airport to ransom. "Absolutely not. We're being absolutely honest. We can't put aircraft into an airport if the aircraft can't operate efficiently. We don't want to grow at an airport if that means customers will experience poor service.
"We don't want to grow at an airport if it means flights will be delayed every hour of every day, and that's what we are saying; we want Dublin to be an attractive, successful airport," he added.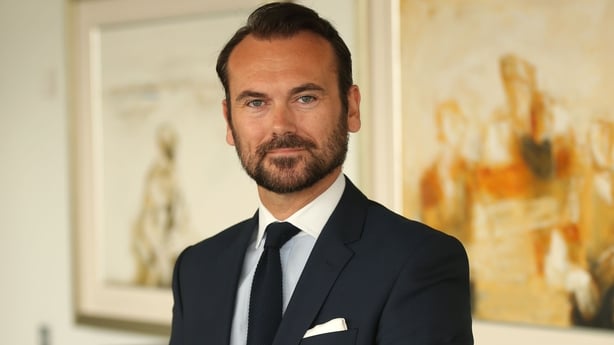 Ulster Bank CEO says still a lot of fixing to be done across Irish banking industry
Ulster Bank has reported a €151m operating loss after taking provisions for what it called legacy conduct and litigation issues.
Gerry Mallon, outgoing CEO of Ulster Bank, said that there is a lot of fixing to be done across the Irish banking industry in terms of addressing customers in mortgage arrears, and those whose tracker mortgage was wrongly taken from them.
He said 2017 was year of progress for Ulster Bank. He said the bank was safe, more sustainable, more efficient and innovative, and it has reduced expenses, grown its income and saw €2.6 billion in new customer lending.
He said Ulster Bank had reduced capital in its business, and had also paid a dividend to its parent Royal Bank of Scotland.
When asked about the number of mortgages in arrears on its books, and if there would be a sale of non-performing loans to foreign or vulture funds, Mr Mallon said that there was a regulatory requirement for the bank to reduce its non-performing loan book.
"That's the view of the ECB. Ten years on from the crisis, the level of non-performing loans in the sector is still out of tolerance. They require us to get to around 5% of our total loan book in non-performing loans. We're currently at 16%."
Mr Mallon said the most preferable thing is to get customers on track to repaying their borrowings, but he acknowledged that in all cases, that's not going to be possible. 
"Any informed commentator would agree that customers are offered a very high degree of protection by regulation and by courts, compared to anywhere else. And the transfer of the loans as far as we are concerned does not alter or dilute that one little bit," he said.
When asked if he felt comfortable selling a portfolio of non-performing loans to vulture funds who might evict people, the bank CEO said that any mortgage system in the world is based on security for the loan.
"If it can't be repaid, then there is an asset there which is the property to cover the value of that loan and that's what makes mortgages low risk for the lenders and low cost for the borrowers, and if the system doesn't work then there is knock-on implications."
Mr Mallon said Ulster Banks' total loan book has 20,000 customers in arrears. He said the bank does not have a portfolio ready to sell at the minute but he estimated it was around a third of the total book.
Separately, the CEO said the bank did not have a final number on the tracker mortgages that were wrongly removed from its customers, but it hoped to have that figure "shortly".
Ulster Bank has already identified 3,500 customers whose tracker mortgages were wrongly removed, who are due to be compensated before June.
He was asked why is was taking so long to compensate them when the bank knows how many are to be compensated. 
"We have a really complex set of processes. We've got five different legacy mortgage systems across two different banks, and rebuilding those customer accounts and getting to their right level of remediation and compensation is a really complex activity, and the central bank accepts it."