Aer Lingus has reported an operating profit of €269m for the year to the end of December, an improvement of €36m, or 15%, over the previous year.
The airline, which is owned by IAG, said its capacity increased by 12.1% with the introduction of an additional Airbus A330.
It was also boosted by the full year impact of new planes delivered during 2016 to support its longhaul expansion.
Aer Lingus said it saw significant cost savings through efficient growth with higher productivity and from cost initiatives. This included areas such as maintenance, selling and IT.
The airline's revenues for the year rose by 5.3% to €1.859 billion. Fuel and other costs dipped 0.9% to €316m, while employee costs rose 5.3% to €345m.
The airline said that while its passenger revenues increased last year, they were lower on a unit basis due to the airline's significant capacity growth and competitive pressures.
Mr Walsh said there has been good dialogue between Aer Lingus and Dublin Airport despite concerns voiced last year over the infrastructure bottlenecks at the airport, and how that could jeopardise further growth at the airline.
"We did experience some operational challenges during the peak summer period last year. Our concern relates to our plans for the future and if we continue to grow as we have been and want to, we've made significant aircraft orders then we are looking at a very significant bottleneck unless steps are taken now," he said.
Aer Lingus has threatened in the past to shift its growth plans elsewhere, and Mr Walsh said the threat remains.
"It's real because we have the commitment to the aircraft. These aircraft have been ordered. They have been designated for Aer Lingus. Aer Lingus wants to operate them from Dublin Airport. If they feel that they can't do that efficiently, then the options are for Aer Lingus to operate those aircrafts from other airports and not necessarily within Ireland, or for the aircraft to go to other parts of IAG."
Meanwhile, its parent company IAG said it expects to post higher profits this year after growing them by 19% in 2017.
IAG, which also owns British Airways and Iberia, said it would return an extra €500m to shareholders, such is its confidence in its future performance.
IAG's reported operating profit before exceptional items of €3.015 billion in 2017, compared to a consensus forecast of €3.046 billion, and it guided to 2018 showing a further increase, without giving further details.
That represents an upgrade from current expectations which show that for 2018 analysts had been forecasting operating profit of €2.7 billion, according to Reuters data.
The airline said it would return €500m to shareholders during 2018 in its second share buyback in two years, as it also lifted its full-year dividend by 15% to 27 cents per share.
IAG shares were down 5.7% at close of trading in the UK.
IAG's airlines last year benefited from strong travel demand thanks to robust economies and low oil prices, and the company said it expected to continue to grow.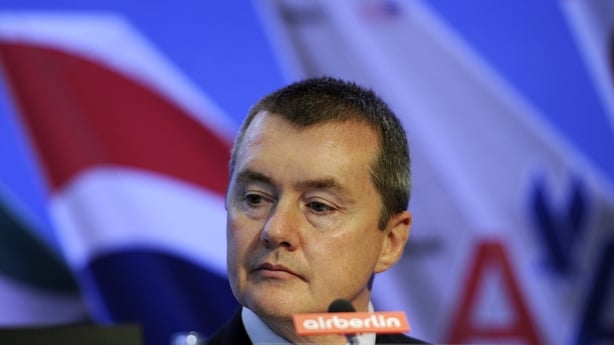 "Our confidence in IAG's future remains undaunted and today we're announcing our intention to undertake a share buyback," IAG chief executive Willie Walsh said.
With fuel prices set to rise this year, and investors fretting over wage inflation, there is more pressure on airlines to show that they can keep costs down.
IAG said that it expected to improve its unit costs excluding the price of fuel this year on a constant currency basis.
But the last three months of the year were worse than expected for the airline.
Plans to expand capacity by 6.7% came amid worries that airlines are growing too quickly and will struggle with costs as rising oil prices boost their jet fuel bills.
Its quarterly operating profit fell 6%, a decline which IAG put down to changes in employee bonus provisions. Its non-fuel unit costs rose 0.5%.
Shares in rival Air France-KLM fell earlier this month over worries about its ability to reduce costs.
And Ryanair chief executive Michael O'Leary has said he doesn't share rivals' optimism over unit revenue this year.