The pharmaceutical sector accounted for 44% of the total value of exports in 2016, comprising €52 billion, new figures from the Central Statistics Office show.
Manufacturing exports were worth €29.5 billion (25%) of the total, and exports from the agri-food sector were €17.2 billion, or 15% of total exports, the CSO figures reveal.
Meanwhile, the retail and wholesale sector was the largest importer in 2016, accounting for €24.5 billion, or 34% of the total of goods imported.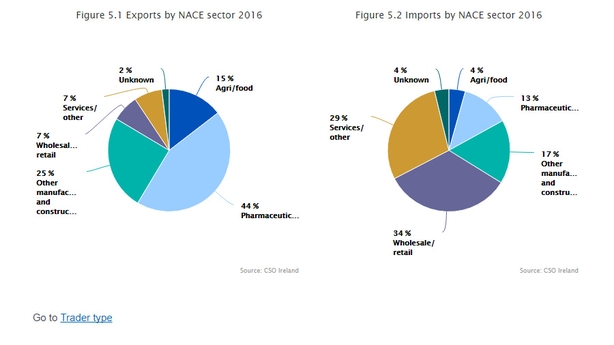 The services sector, which includes aircraft leasing companies, imported €21.1 billion (29%) of goods.
Today's CSO figures also reveal that the largest five exporters accounted for over €36 billion of exports in 2016, equating to 31% of all exports.
Almost 75% of total goods are exported by the top 50 exporting enterprises.
In contrast, the top five importers accounted for only 12% of all goods imported in 2016 while the top 50 importers were responsible for over 40% of all imports.
Large enterprises, which employ over 250 workers, dominate exports while there is a more even spread of goods imported across all sizes of enterprises, the CSO said.