US retailer Walmart reported a lower than expected quarterly profit and posted a sharp drop in online sales growth during the critical Christmas period.
The results sent its shares tumbling over 9% on Wall Street. 
Even as comparable sales in the US market rose for the 14th consecutive quarter, Walmart's online sales grew 23% in the latest quarter, compared to 29% the same time a year ago and 50% from the third quarter. 
It was also slower than Amazon.com's North American sales growth of 40% during the key three month period. 
Walmart said much of the online slowdown was planned as growth fueled by its acquisition of Jet.com begins to lessen. Sales were also hurt by problems around stocking the right amount of inventory, it said. 
Chief executive Doug McMillon said on a conference call with investors that it struggled to balance its online inventory. 
It did not stock enough everyday items as it added more Christmas merchandise like electronics, toys and gifts, which hurt sales. 
The company posted about $11.5 billion in US e-commerce revenue for the year but lost money. McMillon expects e-commerce losses this year to be "about the same" as last year. 
Walmart said it is investing more in Walmart.com on a national basis and reducing marketing investment in Jet.com. 
The cost to market and acquire a new customer is cheaper with the Walmart brand on a nationwide basis than it is for Jet, which targets high-income urban and millennial shoppers. 
McMillon said Jet, which it acquired for $3.3 billion in 2016, will not grow as quickly as it did in early days. 
Excluding special items that crimped profits such as restructuring charges and an impact from offering a one-time bonus to employees, earnings came to $1.33 per share in the fourth quarter ended January 31. 
The average analyst estimate was $1.37 per share, according to Thomson Reuters.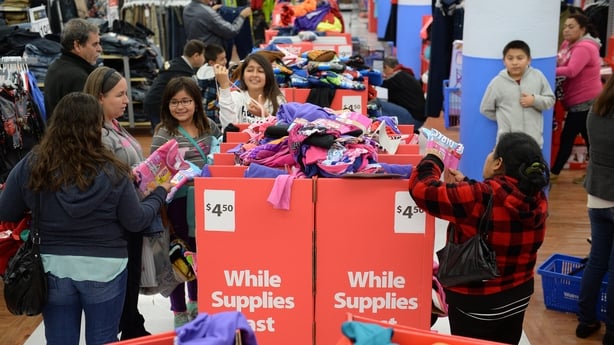 Walmart said its net income dropped 42.1% to $2.18 billion from $3.76 billion. Consolidated operating income fell 28% to $4.5 billion. 
In January, the retailer said it would raise the minimum wage for hourly employees to $11 an hour and offered a one-time bonus to store employees as it benefited from the new US tax law. 
Analysts said the company's price war with Amazon.com also weighed on margins. In November, Walmart's prices were within striking distance of matching Amazon's for the first time. 
The company said that sales at US stores open at least a year rose 2.6%, excluding fuel price fluctuations, while the market expected a rise of 2%. 
The retailer has recorded more than three years of US growth in a row, unmatched by any other retailer. 
Total revenue increased 4.1% to $136.3 billion, beating analysts' estimates of $134.9 billion. 
The company estimated its tax rate would be between 24-26% in the current fiscal year after the new tax law reduced the corporate tax rate to as low as 21%. 
"We are currently analysing the accounting impact of the Tax Act, but our analysis is incomplete," the company said in a statement. 
The retailer recorded a provisional benefit of $207m for both the fourth quarter and full year. 
Wal-Mart forecast earnings of $4.75 to $5 per share for the current fiscal year on an increase of 2% in US same-store sales. Analysts expected $5 per share for the same period. 
Walmart also expects US e-commerce growth for the fiscal year to be around 40%.