Preliminary figures from the Central Statistics Office show that the country's exports reached the highest annual total on record last year.
The CSO said that exports amounted to €122.139 billion in 2017, an increase of €2.846 billion (2%) over 2016.
The CSO said that 2017's preliminary trade surplus stood at €45.250 billion.
Today's figures showed that exports of medical and pharmaceutical products increased by 17% in 2017 compared with 2016, while exports of food and live animals rose by 12%.
Meanwhile, imports also grew to a record level last year, increasing by €2.758 billion (4%) to €76.889 billion.
The CSO said that imports of chemicals and related products increased by 16% in 2017 compared with 2016. Imports of mineral fuels, lubricants and related materials jumped 24%, but imports of other transport equipment - including aircraft - decreased by 9%.
Today's figures also show that exports to Great Britain increased by 8% to €14.454 billion last year compared with 2016 - confounding fears of a sterling-induced fall.
Imports from Great Britain were up by 10% to €17.303 billion.
Exports to the US rose by 4% to €33.197 billion last year, while exports to EU countries increased by 4% to €62.690 billion and exports to the non-EU countries inched 0.3% higher last year.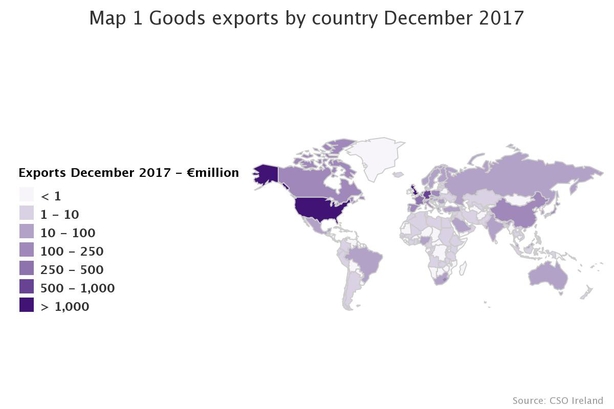 Meanwhile, imports from EU countries were up 3% to €45.281 billion while imports from non-EU countries increased 4% to €31.608 billion in 2017.
Commenting on today's figures, Davy's David McNamara said that with global growth buoyant, 2018 looks set to be another positive year for Irish trade levels.
But the medium-term threat of a hard Brexit remains a cloud on the horizon, he cautioned.
Merrion economist Alan McQuaid also cautioned about the possible impact of Brexit on trade performance but said, at present, Irish exporters have strong momentum. "The trade outlook going forward remains clouded in uncertainty due to Brexit but we are still anticipating another solid performance this year. Indeed, we are at this juncture projecting another record surplus, of €47bn," he said.