New figures from the Central Statistics Office show that consumer prices rose by 0.2% in January compared to the same time last year.
The increase came on the back of higher rents and electricity prices as well as more expensive food and drink in hotels and restaurants.
But January also saw falls in motor insurance premiums and lower prices for personal care products, as well as cheaper food products including meat, jam, vegetables and confectionary.
On a monthly basis, the CSO said that consumer prices fell by 0.7% in January on the back of an 8% fall in clothing and footwear prices and a 1.3% fall in transport costs.
This marked the sharpest monthly rate of decrease in two years.
A Brexit-related fall in the value of sterling against the euro has made imports cheaper in Ireland.
Today's CSO figures show that housing, water, electricity, gas and other fuel prices rose by 3.7% in January on an annual basis, while alcoholic beverages and tobacco prices increased by 2.8%.
Prices in restaurants and hotels were 1.9% higher while education costs increase by 1.6%.
However, the cost of clothing and footwear fell by 3.1%, while furnishings, household equipment and routine household maintenance costs were 3% lower.
Miscellaneous goods and services - which includes the likes of car insurance and hair dressing - fell by 2% last month while the price of some food and non-alcoholic beverages were down 1.7%.
The CSO noted that motor insurance costs were down 11.7% in January of this year compared to the same time last year.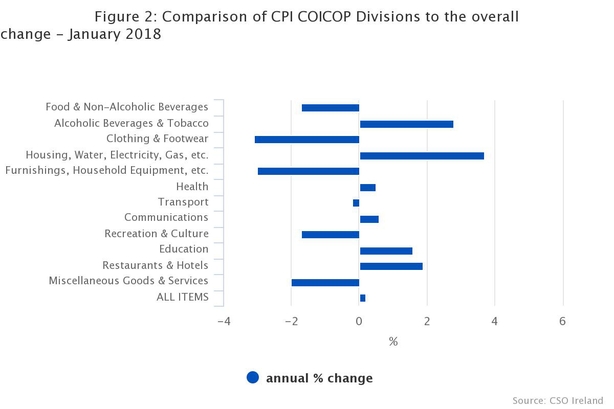 Commenting on today's figures, Merrion economist Alan McQuaid said that despite strong Irish economic growth, there is little sign of sustained pressure on the prices front.
The economist said this appears to be the same story across the euro zone, suggesting that the European Central Bank will be in no hurry to increase interest rates.
"Although the annual inflation rate should pick up in the coming months, inflationary pressures in Ireland as measured by the headline consumer price index are in general likely to stay well contained for the immediate future," Mr McQuaid said.
He noted that Ireland's average inflation rate was 0.4% in 2017, up from 0% in 2016.
"For 2018, it should pick up modestly to between 0.5% and 1%," he predicted.