Credit Suisse has today posted a smaller-than-expected 2017 loss of 983 million Swiss francs.
A 2.3 billion franc writedown triggered by US tax reform kept the bank from its first year in the black since CEO Tidjane Thiam launched a turnaround plan in 2015.
Analysts had expected Switzerland's second-biggest bank to post a 1.1 billion Swiss franc loss because of the writedown.
Pre-tax profit of 1.793 billion francs matched expectations for 1.803 billion francs in the poll.
Net new assets at its Wealth Management business rose more than a quarter last year to 37.2 billion Swiss francs, while assets under management rose 13% to a record 772 billion.
"In 2018, we will remain focused on disciplined execution and on delivering value for our clients and shareholders for the final year of our restructuring plan," Thiam said.
The group said it would propose a reduced dividend of 0.25 francs per share, compared to 0.70 francs in 2016 and average expectations for 0.28 francs.
Thiam, who took the helm nearly three years ago, has focused on scaling back Credit Suisse's investment banking business to concentrate on less capital-intensive private banking.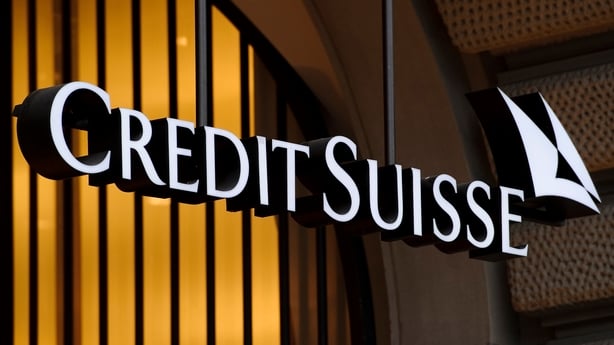 But the meltdown of one of the bank's volatility products last week and two recent US lawsuits over activities before and just after Thiam took charge have raised questions about how far his risk-off strategy has taken hold.
The troubles, combined with activist pressure, have put the bank in the spotlight after years working towards an image of stability as a premier bank for the world's ultra-wealthy.
The bank said market volatility - which was also behind the meltdown of its exchange-traded notes used to bet on stock market swings - was a double-edged sword.
"In the first six weeks of 2018, we have seen a significant pick-up in market volatility, which on the one hand had a positive impact on our secondary activities, and on the other hand, negatively impacted our primary calendar as clients wait for calmer markets in order to transact," it said.
"We are adopting a cautious short-term outlook in this period of heightened volatility," it added.
In recent weeks, the bank has faced regulatory scrutiny over the popular product betting on calm markets in the US which the group terminated after its value plunged following a sudden surge in global market volatility.
The bank said it faced no material impact from the fall in the exchange-traded note (ETN).