Wall Street's main indexes rose for a second straight session today, led by gains in technology and financial stocks.
It comes after its worst week in two years as the specter of rising inflation led to fears of accelerated interest rate hikes.

The Dow Jones Industrial Average was up 287 points (1.2%), at 24,478.08. The S&P 500 was up 26 points (1%) at 2,645.43, while the Nasdaq Composite was up 87 points (1.3%) at 6,961.37.

Despite gains of about 1.5% on Friday, the three indexes are still 6% to 6.5% lower since February 2, when strong US jobs and wages growth data sparked inflation fears, igniting a rally in bond yields and a sell-off in stocks.

Eric Freedman, chief investment officer for US Bank Wealth Management, said, "There are some open doors left, notably, where interest rates are and where they are heading. So while there has been some relief in some assets we don't think the "all clear" has been sounded just yet."
Irish and British shares rebounded, but with market volatility tipped to stay elevated, investors were divided over whether to buy the dip.

The FTSE 100 closed up 1.2% at 7,177 , regaining some of last week's losses but still near a 13-month low. Some £147 billion was wiped off the leading UK stock index in the past two weeks as heady markets nose dived.
The ISEQ index of Irish shares closed down 1.2% to stand at 6,677.
The latest volatility in global financial markets represents "necessary corrections", IMF chief Christine Lagarde said over the weekend.
"The market trepidations that we have seen in the last few days are not worrying me. Those market movements were clearly, in our view, necessary market corrections," she told an audience at Dubai's World Government Forum.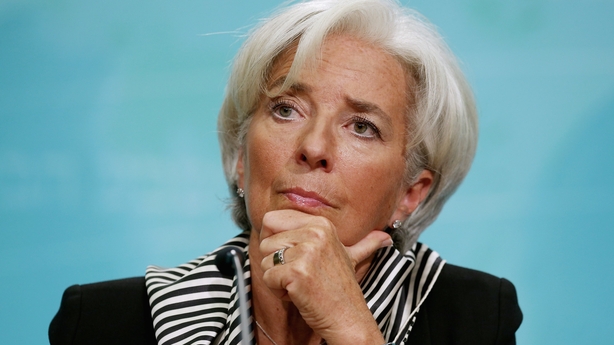 "I would not focus on what has happened in the last few days. I would focus on the imperatives of change going forward and the need to fix the roof," Christine Lagarde said over the weekend in Dubai.
The IMF chief also urged Arab countries to slash public wages and subsidies in order to rein in spending, achieve sustainable growth and create jobs.
Speaking at the one-day Arab Fiscal Forum in Dubai, Lagarde welcomed "promising" reforms adopted by some Arab states, but insisted much more was needed to overcome daunting economic and social problems.
Low oil prices are weighing on the finances of Arab oil exporters, while importers are battling with rising debt, unemployment, conflicts, terrorism and refugee inflows, the IMF's managing director said.