The construction sector posted faster increases in activity, new orders and employment in January, while confidence in the industry improved again.
Ulster Bank's Construction Purchasing Managers' index rose to 61.4 in January from 58 in December, the fastest rate of growth since last May.
Activity has risen continuously since September 2013, with construction companies mainly linking the latest expansion to the securing of new contracts.
The index, which is seasonally adjusted, track changes in total construction activity and covers three areas - housing, commercial and civil engineering.
Ulster Bank said there was a particularly notable acceleration in commercial activity in January, making it the fastest growing sector last month.
The housing PMI also rising to an eight-month high, consistent with ongoing very rapid activity growth.
Civil engineering also logged a second consecutive month of expansion, with a reading of 55.6, which marked the best performance for that sub-sector in almost two years.
Simon Barry, Ulster Bank's chief economist, said the latest results of the construction PMI survey paint a very encouraging picture of early-year activity trends in Irish construction.
"Overall, the January PMI indicates that, like their services and manufacturing counterparts, Irish construction firms have made a strong start to 2018," Mr Barry said.
"Moreover, construction firms are looking to the year ahead with high levels of confidence, with sentiment around future prospects buoyed by expected further improvements in the wider economy and in the construction industry itself," he added.
Today's latest construction PMI also showed that increasing workloads led building firms to increase their staffing levels again, the 53rd consecutive month in which that has been the case and the fastest rate of growth since last August.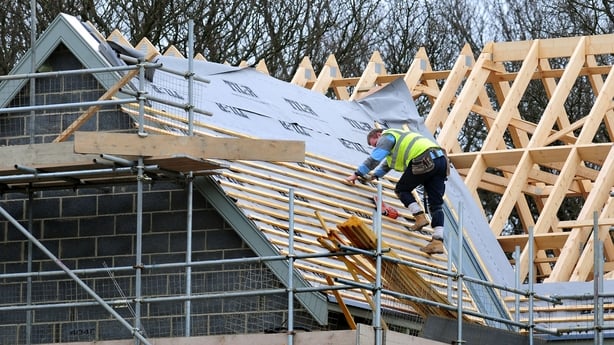 But the increase in demand for inputs put pressure on suppliers and along with a shortage of materials caused a further lengthening of delivery times.
The January data also pointed to a sharp and accelerated monthly increase in input costs, with the latest increase the fastest since January 2007.
Companies noted that suppliers had raised their prices, while higher costs for fuel and labour were also reported.
However, business sentiment strengthened for the second month in a row.
Ulster Bank said that confidence reflected expected improvements in conditions both in the wider economy and construction industry itself, as well as the prospect of further increases in new contracts.
More than 53% of building firms forecast a rise in activity over the coming year.