A major new production of a TV series to be broadcast on Netflix has begun shooting in Troy Studios, Limerick.
Up to 500 people will be employed during the filming of the Netflix drama, a production that is estimated to be worth up to €70m to the local economy.
"Nightflyers" is based on a novella by Game of Thrones author George RR Martin and began shooting in Limerick earlier this week.
NBC Universal, through its subsidiary Universal Cable Productions, made the announcement today.
Netflix will co-produce and have first-run rights to the series outside of the US.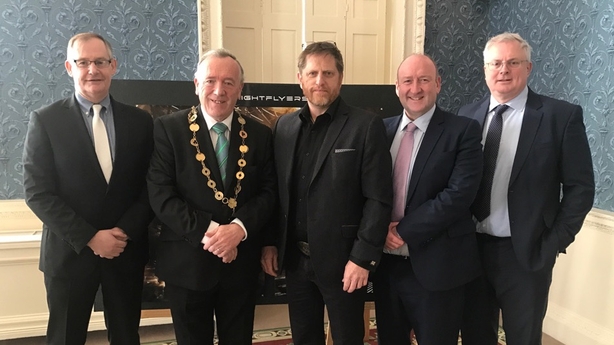 Executive VP of NBC Universal Kimberly Harris, who was in Dublin today for the launch of the show, said the Government's support of the film and television sector, as well as the skilled local workforce, were the key issues in deciding to film the show here.
Limerick City and County Council bought the old Dell factory after realising its potential following the successful staging of a number of events during the National City of Culture 2014 celebrations and discussions began about converting it into studios.
The facility is one of the four key strategy sites for development as part of the Limerick 2030 plan.
In tandem with the development of the studios, Innovate Limerick and Limerick City and County Council have put in place the supporting services such as a dedicated Film In Limerick and the production and digital skills academy at Engine to develop a supply of skilled people locally to work on future productions.
Minister for Culture, Heritage and the Gaeltacht Josepha Madigan said that 75% of the people working on the project will be based in Limerick and she also said there will be an opportunity for workers to be trained for work on future productions.
Mayor of Limerick, Cllr Stephen Keary, said: "Having Nightflyers start production is the culmination of years of hard work and a belief that a major studio production facility could be located here.
"The studios will be a great asset to the entire region and as a result, Hollywood has come to Limerick and we hope it will be here for years to come."
IDA Ireland CEO Martin Shanahan said: "This is great news for the city of Limerick, not only is today's announcement [NBC Universal] NBCU's first project in Ireland but it is the first production of its kind for Limerick. The series has the potential to bring significant employment across a wide range of trades and skills during production, but also further spin-out benefits across the region to support the large crew involved."
IDA executives met with senior executives at NBC Universal in New York during the highly competitive site location process, "so we are delighted with this endorsement for the mid-west region and we wish the team in Limerick every success".