European stock markets recorded gains today and closed up, following heavy losses the previous session.
London's FTSE index closed up 1.9% this evening after the index had shed 2.6% yesterday as global indices slumped on high US inflation worries.
Frankfurt's DAX index climbed 1.7% and the Paris CAC had risen 1.8% when trading finished. Both indices had closed down by almost 2.5% yesterday.
In see-saw trade, Dublin's ISEQ index closed up 1.9%, after it fell over 1% yesterday.
Earlier in Asian trade, Tokyo stocks rebounded slightly in a rollercoaster session today after Wall Street finished the previous day with solid gains following a global rout.
The Nikkei index, which yesterday fell nearly 5% in the worst loss since the November 2016 election of Donald Trump as US president, rose 0.16%.
The Nikkei had opened sharply higher, surging nearly 3.5% at one point as investors bought on dips following the recent slumps.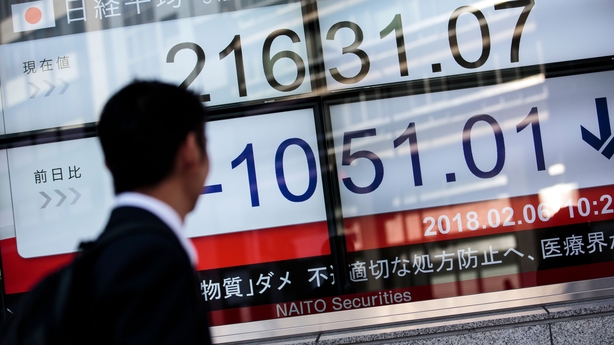 But early gains were gradually eroded with investors still nervous and uncertain if the market is now on course to recovery.
---
Wall Street plunge looks like correction not a crash
---
Bargain-hunters last night swooped in to buy Wall Street stocks, stemming a haemorrhage that had been spreading panic among investors globally.
After Asian and European equity markets plunged yesterday, New York stocks started their trading day with another jaw-dropping fall as the Dow index dived nearly 3%, adding to the previous day's record loss.
But within minutes a fierce battle appeared to be playing out between those betting on further declines, and those who thought that the market correction had gone too far, leading to some wild price gyrations.
The Dow Jones eventually closed 2.3% higher last night.
However, shares in Hong Kong ended with fresh losses today as an initial rebound from the previous day's 5% collapse fizzled out. The Hang Seng Index slipped 0.89%.
Minister for Finance Paschal Donohoe said he and his department were monitoring the market volatility, but noted that it came on the back of "an upward trend continuously since 2009".
He said there was a need for the Government to focus on what it can influence, including balancing the budget and improving the economy's resilience in the face of any potential upheaval in the future.