The Government's tax revenues for January represent a solid start to the year, according to the Department of Finance.
Tax revenues of €5.019 billion were collected last month, an increase of 4.9% or €236 million on January 2017. This year-on-year improvement was driven by strong performances across a range of taxes.
The revenue figures show a surplus of €1.529 billion was recorded in January, which compares to a surplus of €1.470 billion in the same period last year.
According to the department, this year-on-year improvement of €59 million was primarily due to increased tax revenues, which, was offset by increases in voted and non-voted expenditure.
Despite concerns around Christmas spending, VAT receipts surged over the festive period, indicating strong consumer spending. January is generally the largest month of the year in terms of VAT receipts as collections in the month primarily relate to the November/December trading period. Receipts in the month amounted to €2,445 million, which represents a strong year-on-year increase of €5.7% or €132 million.
Government spending overall was up 5.4% year-on-year but the exchequer related to the general government still recorded a surplus of €607 million, a significant improvement on last year.
Income Tax performed robustly, with receipts of €1,750 million collected in January. This represents a year-on-year improvement of 6.6% or €108 million.
As expected, January is traditionally a quiet month for Corporation Tax and receipts of €25 million were recorded, which equates to a €39 million decrease when compared to January 2017.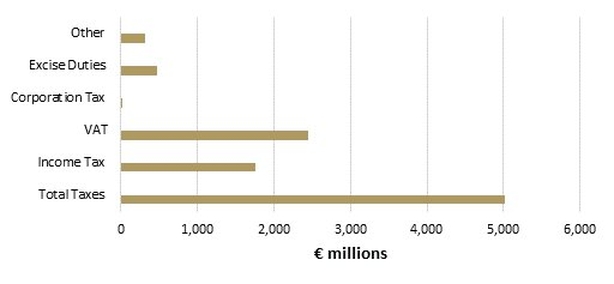 Excise duties amounted to €478 million in January, representing a marginal year-on-year increase of approximately 2.3% or €11 million.
€124 million was collected in Stamp Duty receipts in January, up 47.3% or €40 million year-on-year.

Capital Gains Tax receipts amounted to €62 million, an increase of €38 million when compared to January 2017.
Capital Acquisitions Tax receipts of €13 million were down €4 million when compared to the corresponding month last year.

Since January 1, 2018, Local Property Tax is paid directly into the Local Government Fund, rather than being directed to the Exchequer, as a result of the Water Services Act 2017.
Motor Tax receipts are now paid directly into the Exchequer instead of the Local Government Fund.
€87 million was received in the Exchequer in respect of Motor Tax receipts in January, down €9 million in year-on-year terms.
Customs receipts of €17 million were collected in January, which represents a year-on-year decrease of €5 million.