US job growth surged in January and wages increased further, recording their largest annual gain in more than eight and a half years.
The figures bolstered expectations that US inflation will push higher this year as the labour market hits full employment. 
Non-farm payrolls jumped by 200,000 jobs last month after rising 160,000 in December, the Labor Department said today. 
The US unemployment rate was unchanged at a 17-year low of 4.1%. Average hourly earnings rose nine cents, or 0.3%, in January to $26.74, building on December's solid 0.4% gain. 
That boosted the year-on-year increase in average hourly earnings to 2.9%, the largest rise since June 2009, from 2.7% in December. 
US workers, however, put in fewer hours last month. The average workweek fell to 34.3 hours, the shortest in four months, from 34.5 hours in December. 
The robust employment report underscored the strong momentum in the US economy at the start of the year.
Economists say job gains are being driven by buoyant domestic and global demand. 
Given that the labour market is almost at full employment, economists saw little boost to job growth from the Trump administration's $1.5 billion tax cut package passed by the Republican-controlled US Congress in December.
The changes marked the biggest overhaul of the tax code in the US in 30 years. 
President Donald Trump and his fellow Republicans said the fiscal stimulus, which includes a reduction in the corporate income tax rate to 21% from 35%, will create jobs and boost economic growth. 
According to outplacement consultancy firm Challenger, Gray & Christmas, only seven companies, including Apple, had announced plans to add roughly a combined 37,000 new jobs in response to the tax cuts as of the end of January. 
Economists polled by Reuters had forecast non-farm payrolls rising by 180,000 jobs last month and the unemployment rate unchanged at 4.1%. 
January's anticipated jobs gains were above the monthly average of 192,000 over the past three months. 
The US economy needs to create 75,000 to 100,000 jobs per month to keep up with growth in the working-age population.
US job growth is expected to slow this year as the labour market hits full employment.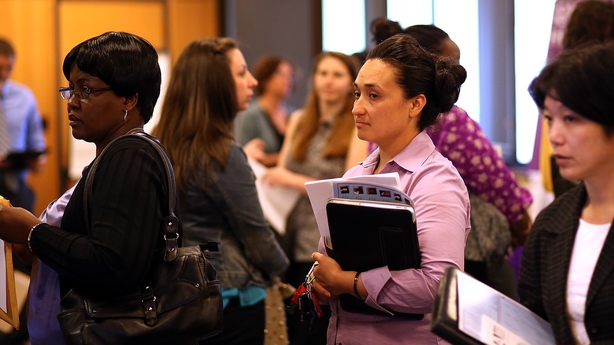 Companies are increasingly reporting difficulties finding qualified workers, which economists say will force some to significantly raise wages as they compete for scarce labour. 
US wage growth last month was likely supported by increases in the minimum wage which came into effect in 18 states in January. 
They probably also got a lift from the tax cut. Companies like Starbucks and FedEx have said they will use some of the savings from lower taxes to boost wages for workers. 
Further gains are expected in February when Walmart raises entry-level wages for hourly employees at its US stores. Annual wage growth is now close to the 3% that economists say is needed to push inflation towards the Federal Reserve's 2% target. 
Fed officials this week expressed optimism that inflation will rise toward its target this year. 
Policymakers, who voted to keep interest rates unchanged, described the labour market as having "continued to strengthen," and economic activity as "rising at a solid rate." US financial markets are expecting a rate hike in March. 
The Fed has forecast three rate increases this year. It raised borrowing costs three times in 2017. 
US employment gains were widespread in January. Manufacturing payrolls increased by 15,000 last month after rising 21,000 in December. The sector is being supported by strong domestic and international demand. 
A weak dollar is also providing a boost to manufacturing by making US-made goods more competitive on the international market. 
Hiring at construction sites picked up last month despite unseasonably cold weather. Construction payrolls increased by 36,000 jobs after rising 33,000 in December. R
etail employment rebounded by 15,400 jobs in January after slumping 25,600 the prior month. 
US government employment increased by 4,000 jobs following two months of declines in a row.
There were also increases in payrolls for professional and business services, leisure and hospitality as well as healthcare and social assistance.